Mymensingh Zila School A traditional educational institution in Mymensingh. A Middle English school called Hardinge School was established in Mymensingh in 1846 by the initiative of FB Camp, Collector of the east india company. It started its journey in a red brick single-storeyed building adjacent to the collectorate building. Initially, only the children of affluent families used to get chance of studying here. Later, the Hardinge School was elevated a full-fledged English medium school on 3 November 1853 in the light of the education policy incorporated in wood's education despatch. The School was named as Mymensingh Zila School. Bhagwan Chandra Bose, father of renowned scientist Sir jagadish chandra bose, was the first headmaster of this institution.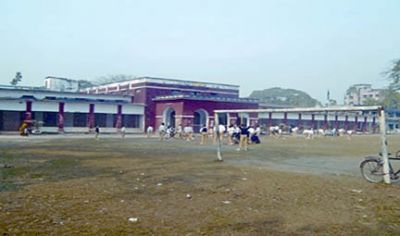 The school was shifted to a pucca building in 1885 with the goal of upgrading its classrooms in accordance with the recommendations of the Hunter Commission constituted in 1882. The school was shifted to its present campus in 1913 in a building built on land acquisition in 1912. The school was temporarily shifted to the Darul Hasana building located on its opposite side due to the setting up of camp by the British forces during the World War II.
The school was granted the status of Multilateral Pilot School in 1961. The technical sections were opened alongside Arts and Sciences in 1962. The Commerce section was opened in 1964.
The school had a residential hostel ever since its recognition as a Zila School. Towards 1956-57, the activities of Mymensingh Teachers' Training College were started in the tin-shed part of the hostel. The hostel was temporarily shifted to Gulkibari Raimoni Lodge between 1958 and 1964 due to the setting up of EPR training camp, and the hostel became known as Anjuman Muslim Hostel. There was a training centre for the freedom fighters in the school compound during the liberation war of 1971. A number of students of this school embraced martyrdom during the liberation war.
Two shifts, day and morning have been launched in this school since 1991. At present the number of students in two shifts is 1743. Besides, the SSC programme run by bangladesh open university is also in operation since 1995.
The students of Mymensingh Zila School regularly participate in various extra-curricular activities. They demonstrated their brilliance by occupying 3rd position in the Television Debate Competition of 2001 and 2003. Besides, the school administration arranges discussion programmes on the occasion of different national days of the academic year. Sports and cultural competitions and prize giving ceremonies are also arranged in the school. Wallpapers, and annual souvenirs in alternate years are published by the initiative of the students. [Md Yunus Faruqui]