---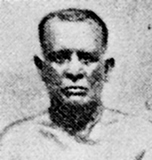 Basu, Nagendranath (1866-1938) author of the first encyclopedia in Bangla, archaeologist, historian and writer, was born in Kolkata on 6 July 1866. Nagendranath was a versatile scholar but he is known mainly for the Bangla Bixhwakosh (Bangla encyclopedia), the first volume of which was compiled by Rabgalal Mukhopadhyay and edited by his brother, Trailokyanath Mukhopadhyay. Nagendranath worked for 27 years to publish its other 22 volumes. The last volume was published in 1911. Its Hindi version in 24 volumes was published between 1916 and 1931. Nagendranath died in 1938. Early in life Nagendranath started writing poems and novels. But he soon became involved in editing. He edited two monthly journals: Tapasvini and Bharat.
For a long time he edited the sahitya parisad patrika, mouthpiece of the vangiya sahitya parishad. He also edited Kayastha of the Kayastha Sabha. He edited a number of ancient books such as Pitambar Das's Rasamabjari, Jayananda's Chaitanyamabgal, chandidas' Aprakaxhita Rachanabali, Jaynarayan's Kashi-Parikrama and Bhagavatacharya's Krishvaprematarabgini. These were published by the Bangiya Sahitya Parishat.
Nagendranath was also an archaeologist. He traveled all over India in search of archaeological remnants. He collected rock inscriptions, brass plates and ancient manuscripts in Bangla, sanskrit and Oriya. Some of his collections included inscriptions in the Xhuxhuniya script and Madanpal's plate. He also deciphered many of these writings. He wrote historical accounts of a number of places on the basis of his finds as well as essays on the origin of nagaraksar. university of calcutta opened its Bengali Department with the ancient manuscripts collected by him.
In 1884 Nagendranath wrote and published a remarkable book, Xhabdendu Mahakosh, which was an English-Bangla dictionary. While working on this book he came in close contact with Anandakrishva Basu and haraprasad shastri and it was at their initiative that he became a member of the asiatic society in Kolkata. In 1894 he presented several essays at the society on the ancient history of Bengal. He was also associated with the compilation of the appendix of shabdakalpadruma. Some of his important scholarly books include Banger Jatiya Itihas (in several volumes), Kayasther Varnaparichay, Xhunyapurana, Archaeological Survey of Mayurbhanja, Modern Buddhism and its Followers in Orissa and Social History of Kamrup.  
Nagendranath also wrote plays. At the request of Biharilal Sarkar he wrote several plays such as Xhabkaracharya (1295 BS) Parxhwanath, Hariraj and Lausen for the Darjipara Theatrical Club. He also translated Shakespeare's Hamlet and Macbeth into Bangla. He was a pillar of the Bangiya Sahitya Parishat and a founder of the Kayastha Sabha. For his extraordinary work in archaeology he was awarded the title of 'Prachyavidyamaharnav' (one who is steeped in eastern lore). [Dulal Bhowmik]