Bhattacharya, Comrade Ajoy
---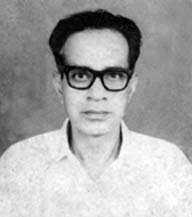 Bhattacharya, Comrade Ajoy (1914-1999) a revolutionary communist politician, historian and literature, led the nankar movement (1945-48). Born in a feudal family in Lauta village under Panchakhanda Pargana of Sylhet district in the state of Assam of undivided India on 10 January 1914, Ajoy Bhattacharya is remembered for his greatest contribution in life as a writer of a documentary book on the movement itself. He was the son of Upendranath Bhattacharya and Kripamoyee Bhattacharya. His father was a leader of the zamindari association and the Sylhet district unit of indian national congress. As their full family had an anti-British mindset, he was involved in underground politics and he had to take many pseudonyms like Dewan Bhai, Kashem and Anil. As an author he took two pen-names- Jatrik and Sajjad Zahir for writing political literature and essays.
After getting primary education from Lauta Government Primary School and secondary education from Lauta ME School and Bianibazar Horogobinda School, Ajoy Bhattacharya appeared in the matriculation examinations from Karimganj Public High School in 1937 and came out successfully. Later in 1939, he passed IA in Humanities from Shilchar Gurucharan College of Kachar District, Assam. He was enrolled as a student of BA Class in Sylhet (murari chand college) (MC) but could not continue his education for the involvement in student politics and peasant movements Ajoy Bhattacharya in his tender age became a member of Tarun Shangha (Youth Association), an anti-British imperialist revolutionary body and he discharged the responsibility of secretary of its Lauta branch. He also took part in the Kulaura Peasants Movement and students uprising during his student life. After the formation of Sylhet unit of Indian Communist Party in 1936, Ajoy became the General Secretary of Surma Valley unit of its front organisation, all india students federation. He was also Assistant General Secretary of Kachar district unit of Krishak Shava, the peasant's front.
Ajoy Bhattacharya obtained the membership of Communist Party of India in 1937 and as a fulltime party worker from 1940, he used to participate in the underground activities. He was elected a member of Sylhet district unit of Communist Party in 1941 and participated in the second congress of the Communist Party of India, held in Kolkata in 1948 as an elected delegate. Ajoy played a leading role in the historic Nankar Movement of Sylhet after the World War II. The centre of the mutiny was Lauta Bahadurpur and he served as the secretary of the Lauta Bahadurpur- based 45-member Nankar Movement Organising Committee till May 1948, when he was taken to the custody.
Ajoy Bhattacharya embraced imprisonment for seven times during the British and the Pakistani rule. After the independence of Pakistan in 1947 he was put behind the bar and he had to spend consecutive 20 years there. Nurul Amin government of the then East Pakistan offered him a proposal of release if he could leave the country for India forever. As he refused to accept the proposal, again he was put behind the bar. During the fifties he and Comrade abdul haque took united stand against the revisionism of the then Soviet leader Nikita Khrushchev from jail. The doctrine created a conflicting situation within the international communist movement splitting of the East Pakistan Communist Party. The East Pakistan Communist Party (Marxism-Leninism)-EPCP (ML) was enraged during the fourth congress of the Party in 1967. Comrade Ajoy was elected a central committee member of the new faction, headed by Comrade Abdul Haque. In 1970 the EPCP (ML) adopted the strategy of elimination of so-called 'enemy of the oppressed class' initiated by Charu Majumder of India. In 1971, during the war of liberation of Bangladesh, EPCP (ML) in their language waged a revolutionary war on the basis of doctrine of armed class-struggle. Even after the proclamation of independence of Bangladesh, the EPCP (ML) high command did not change the name of their party.
After the change of political scenario of 1975 in Bangladesh, Ajoy Bhattacharya along with Comrade Abdul Haque conducted their ideological struggle against the counter-revolutionary lines, which they described as 'class-adjusterist', 'extinctionist' 'capitulationist' of inclined nature. He took relief from the party's central leadership in 1983. However, Comrade Ajoy, being a very senior and experienced revolutionary leader and a general member, played an active role in the party by sharing knowledge, experience, advise and opinion and by extending co-operation till his death in 1999. He took stand in favour of socialism and communism even during the collapse of the Soviet Union and East European communist countries in the nineties. From then he started writing in his own name leaving all pen names.
Ajoy Bhattacharya's literary career began with a write up published in Sylhet-based Weekly Naya Dunia and Shanghati, edited by Jotirmoy Nandi and monthly Balaka, edited by Kali-Proshonna Das. Actually the encouragement and inspiration of veteran writers and co-prisoners like (satyen sen), Ranesh Das gupta, Sardar Fazlul Karim and Abdul Haque made Ajoy Bhattacharya a creative writer during their long imprisonment together.
His remarkable works are: Novel- E-Ghar O-Ghar (1968), Kulimem (1995), Arannyani (1983), Batashir Ma (1985), Rajnagar (1995); Short Stories- Neer (1969), Shubol Majheer Ghat (1997); History- Nankar Bidroho (1999), Ordho Shatabdi Aghe Gano Andolon Edheshe Kemon Chilo (1990). Over one hundred essays published in various Journals and magazines and many manuscripts of novel, story and essay have not yet appeared as books.
The feudal exploitation in the British colony of India and the struggle for freedom of the protesting people from the exploitation were the themes of all his creative write-ups. His two books on the Nankar Movement are considered as most authentic historical documents of peasant-movement in Bangladesh.
Comrade Ajoy Bhattacharya died in dhaka medical college and hospital on 13 October 1999 at the age of 85 years. [Obaidullah Sagor]