---
D'Oyly, Charles (1781-1845) a painter of Dhaka. He painted some pictures of Dhaka, but it is not that he was famous only for that reason. D'Oyly was one of those civilians who experimented with Indian paintings. He painted numerous pictures taking India as the subject matter, which is one of the important ingredients of history.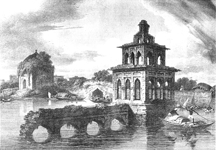 He was born in India on 17 September 1781. His father, Baron Sir John Hedley D'Oyly, was the resident of the Company at the Court of Nawab Babar Ali of murshidabad. D'Oyly went to England with the family in 1785 and received education there. In 1798, he returned to India and joined as the Assistant to the Registrar in the Court of Appeal in Calcutta. In 1803, he was appointed as the 'Keeper of the Records' in the office of the Governor General.
D'Oyly got the first important post in 1808 when he was appointed as the Collector of Dacca (now Dhaka). In the subsequent years, the posts he held were the Government and City Collector of Customs in Calcutta (1818), the Opium Agent of Bihar (1821), the Commercial Resident of Patna (1831) and lastly the Senior Member of the Board of Customs, Salt, Opium and of the Marine (1833). After serving the company for forty years, his shattered health compelled D'Oyly to leave India in 1838. After the death of his father, D'Oyly was conferred the Baronage and he also received knighthood. The greater part of the rest of his life, he spent in Italy and died there on 21 September 1845 leaving behind no son.
D'Oyly was the collector of Dhaka from 1808 to 1817. During that period, he drew various types of pictures, especially the Mughal ruins. He decided to publish the drawings relating to Dhaka in the form of folio. After engraving the drawings of D'Oyly, these began to be published in the form of folios from London since 1823. In the first folio, there were four, in the second, four, in the third, five, and in the fourth folio, five drawings. A short historical account of Dhaka was also appended to each folio. James Atkinson wrote these accounts and these were engraved by Landsear. The folios are known as Antiquities of Dacca. Added together with these is an account relating to the history of Dhaka, which is entitled Some Account of the City of Dhaka. It is for this reason that very often the Antiquities is mentioned as a book. It is an important source for the writing of the history of Dhaka. These drawings are the witness to the politico-socio-economic adversity of Dhaka during a particular period of time. [Muntassir Mamoon]