---
Dariya Mosque stands on the western bank of the karatoya in Dariya village in Muradpur Union, about 15 km to the east of Nawabganj Upazila of Dinajpur district. There is no inscription recording the date of its construction, but from its stylistic similarity with the nearby nayabad mosque it can be identified as a Mughal mosque. Tradition has it that a local merchant built it and the builder lies buried beside the mosque.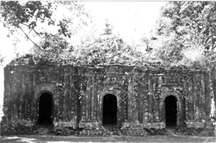 The mosque is in a highly damaged condition due to lack of repair and maintenance. All the three domes are heavily damaged and show overgrowth of vegetation. Most of its terracotta decorations are now gone.
But it was not too long ago that the mosque was in use. It is interesting to note that the walls of the mosque are decorated with representations of elephant, horse and peacock. For this reason it was abandoned, since the Imam of the new village mosque issued a fatwa against such decoration.
The foundation of the mosque has sunk considerably. It measures 9.75m x 3.41m from the outside. There are three arched entrances on the east; the central one is bigger than the flanking ones and is 1.68m high and 1.71m wide. Of the three mihrabs inside the western wall, the central one is bigger than the flanking ones. There are four corner towers in the outer corners of the mosque. The eastern facade wall shows panel decoration. terracotta plaques with depiction of floral and creeper patterns, horse, pairs of peacocks, and elephants, are placed inside the panels on the wall. It should be noted here that representations of life do not occur in the decoration of mosques. The exception of this general rule in this mosque is worth noting. [Sania Sitara]