---
Dockyard Bangladesh has about one hundred dockyards or shipyards as of now in and around Dhaka, Narayanganj, Chittagong, Khulna, Mongla & Barisal. These dockyards are operating predominantly under individual management, with some overseeing from the government. Most of the private dockyards use plate, engine, component and machinery of old merchant ship; which collect from Bhatiary ship break-yards in Chittagong. At present some private dockyards or shipyards already attained international standard and are manufacturing vessels for international market. Private dockyards employ great number of skilled, semi-skilled and unskilled labours. Recently few of these dockyards specially Ananda Shipyard & Slipway Ltd (ASSL), Dhaka and Western Marine Shipyard (WMS), Chittagong have attained the capability to manufacture export quality ships. Seven more local dockyards are capable to build ships upto 10000 tonnes capacity as per international standards. High speed Shipyard has 50 years of shipbuilding history. Highspeed constructed five deep-sea fishing trawlers for local owners and built up eight food grain carriers' cargo vessels in 1980s for FAO (Food and Agricultural Organisation of UN). It built the first barge-mounted power plant for Rural Power Company Ltd (RPCL), several oil tankers, and fast moving patrol boats for Bangladesh Navy and troops carrier for the Bangladesh Army. Some private dockyards are also manufacturing very good quality small and medium new ships for international market. These local dockyards are receiving orders from the foreign ship buyers since 2000. In 2008, Ananda Shipyard delivered a ship of 2850 tones capacity to a Danish company, built at a cost of US$ 7 million.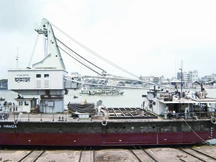 In the public sector, the most significant is the Chittagong Dry Dock Limited (CDDL). It is the only dockyard, comparatively modern and equipped with advanced machinery and facilities to build up ocean going ship with a capability of 20000 tones. It earns millions of dollars by repairing local and international ships. But, other two publicly owned dockyards have become losing concerns. The oldest public Dockyard and Engineering Work Ltd (DEW), Narayanganj, is providing services to new shipbuilding and repair sectors in this region since 1926. It's present capability of building and repairing versatile types of vessels up to 5000 tones.    
After being modernised in 1989, the yard has constructed some world Class Ro-Ro ferries under a Danish aided project for BIWTC. But DEW has declined in its reputation now. After declaring as a sick industry in 2002 it was closed and finally handed over to Bangladesh Navy on Dec 07, 2006. Presently DEW is running by Bangladesh Navy and Modernisation or BMRE is going on.
Another public Dockyard, Khulna Shipyard Ltd (KSY), was commissioned about 43 years ago. It was also declared as a sick industry and later Bangladesh Navy took it over. But there was no sight of profit for a long time. But now KSY is earning profit. Gun Boat, Cargo Vessels, Floating Cranes, Water Barge, Water Boat, Tug, Oil Tanker, Pontoon, LCT, Trawlers, Launch etc of upto 5000 tones capacity have so far been designed, constructed, repaired and renovated at the KSY. Its versatile dock facilities can accommodate sixteen medium size vessels at a time for repair or new building. Since 1957 Khulna Shipyard has built 350 vessels and renovated as repaired over 2300 vessels. Bangladesh Navy owns the country's only floating dock, BNFD Sunderban. It can dock up to 3000 tones vessel for repairing and manufacturing. However Bangladesh Navy used this floating dock for repairing of its warships.
At present about 2000 coastal Tanker, Cargo, Multipurpose and trawlers plying in the coastal area and the ocean are entirely made by Bangladeshi dockyards of which only 400 are registered at Mercantile Marine Department (MMD). Bangladeshi dockyards also make various cargo and passenger inland ships for inland routes. About two million people are directly or indirectly related either with the ship building industry. bangladesh inland water transport corporation's (BIWTC) own 24 passenger steamers, 33 ferry steamers, 20 coasters, 7 inland barges, 10 sea trucks, 12 tankers and 227 other vessels.'
The vessels built in various Bangladeshi dockyards are: Multipurpose vessel or Coaster, Dry Cargo Vessel, Passenger Vessel, Dredging Barge, Tanker, Landing Craft, Tug, Supply Barge, Ro-Ro Ferry, Hospital Ship, Tourist ship, Deck Loading Barge, Pleasure Craft/Yatch, Crane Boat, Speed Boat, Hydrographic Survey Boat, Double Decker Passenger Vessel, Troops Carrying Vessel, Cargo Coaster, Inspection Vessel, Self Propelled Barge, Pontoon, Pollution Control Vessel, Deep Sea Trawler, Fast Patrol Boat, Container vessel, Pilot Boat, Water Taxi, Catamaran Vessel, Sand Carrier or Small Cargo Carrier, Dump Barge etc. [Khandaker Akhter Hossain]