---
Hedges, Sir William (1632-1701) the first English governor of the affairs of the east india company in Bengal. Until 1681 the investment of the company in Bengal was regulated from Madras. With the steady growth of the company's trade and commerce in Bengal and with manifold complaints against the management of the company's affairs the court of directors resolved to make a separate Agency for Bengal, independent of Fort St. George. Thus a six-member executive body called the Council of Bay was set up in 1682 to manage the affairs of the company in Bengal and William Hedges was appointed the first governor of the Bengal Agency.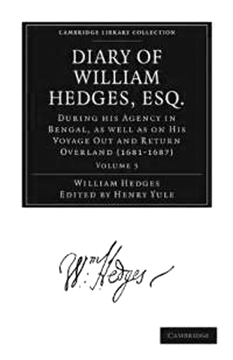 The Governor and Council of Bay were to operate from hughli, then the principal port in Bengal. Hedges, however, could not bring about any improvement in the affairs of the company in the Bay. He encountered tremendous obstacles from the interlopers or illicit traders from England. He failed to persuade the Mughal government not to entertain them in Bengal. The interlopers paid a higher rate of customs duty to the government and hence the government had no reason to oust the interlopers at the request of the governor. Hedges also failed to persuade the Mughal government to honour the privileges granted to the company by the nishan of shah shuja (1651). The government officials occasionally obstructed the company's trade in an attempt to extract taxes from goods that were declared tax-free by Shuja's Nixan.
William Hedges proved to be tactless in managing his affairs. Soon he alienated the members of his Council of Bay. All of them wrote individually to the Court against his eccentricities. The Court finally dismissed him and abolished the Council of Bay in December 1683 and annexed the company's Bengal affairs to the jurisdiction of the Fort St George of Madras. Thus ended the episode of the independent status of the Bengal Agency of the East India Company. Hedges, however, made one lasting contribution to the subsequent development of the company by convincing the Court that the English settlement in Bengal should be shifted from Hughli to a more convenient place and it must be fortified in order to secure the company's investment against native inroads.
The Court accepted his plan. The settlement was shifted from Hughli to calcutta in 1690 and it was fortified in 1698. Such a move indeed had laid the foundation of the company's kingdom in Bengal.
Though a failure as the company's governor, Sir William Hedges remains a notable personality in the realm of historical literature for his famous diary. He very faithfully recorded his life and experiences in India in his daily journal which was later published in three volumes by Yule (Diary of William Hedges, Esq. 3 vols 1877-79). The Diary provides important sources for reconstructing the history of Mughal Bengal and of the early history of the British in India. The failure of his Indian life was well recompensed by his success in England. He was knighted in 1688, made Sheriff of London in 1693 and a director of the Bank of England in 1694. [Sirajul Islam]