---
High Court Building, Old a colonial building in Dhaka situated on Qazi Nazrul Islam Avenue, opposite the picturesque curzon hall, and skirting the Ramna Green. This imposing two-storeyed edifice was originally designed as the official residence of the governor of the newly created province of East Bengal and Assam in the wake of the partition of bengal (1905). On completion of the building, the consulting architect of the government of India considered it unbefitting a governor's residence and therefore it remained vacant. Later it housed the Dhaka Intermediate College and still later, in erstwhile East Pakistan, it was converted into the High Court.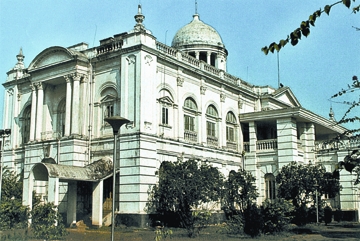 With the construction of a building nearby (opposite the Foreign Office, which now houses the Supreme Court of Bangladesh) the High Court was shifted to the new building (1967). The old building now houses various offices of the government.
It occupies a vast quadrangular enclosure with a series of apartments of various dimensions, aligned on four symmetrically laid out wings, which overlook an extensive inner court. A monumental triple-arched gateway to the south provides access to the imposing edifice precinct. Its facade, rising in three receding stages, is in a typical European renaissance style with a prominent porch under a triangular pediment, supported on Corinthian columns. A graceful dome, carried on slender columns and piers in a ring, crowns the building.
A broad staircase, flagged with white marble, rises from the square entrance foyer beyond the porch and leads to the upper storey. Another staircase, built in the middle of the northern wing, also provides access to the upper floor besides the two subsidiary spiral stairs located at the two inner corners of the quadrangle. The four arms of the oblong palace accommodate over 50 apartments of different sizes in two storeyes including drawing rooms, dining rooms, bedrooms, dressing and toilet alcoves, lamp-room, store, service pantry etc. Long covered verandah in front of the apartments runs along the entire length of the wings. There is a circular projection in the centre of each wing. In the east wing there is a ballroom (18.30m x 16.76m) facing a verandah. The floors of the entire ground floor are flagged with white marble, except for the ballroom in the east, which was laid out with polished teak planks. [Nazimuddin Ahmed]