Hossain, Lt Commander Moazzem
---
Hossain, Lt Commander Moazzem (1933-1971) naval officer, martyr freedom fighter. He was born on 2 Aswin 1339 BS (1933 AD) at village Dumuritala in Pirojpur district. His father Mofazzel Ali was a government official and his mother was Latifunnesa Begum. Moazzem Hossain passed Matriculation examination in 1947 from Kachua High School. He got himself admitted in ISc class in Bagerhat College. His education became irregular due to his association with radical student movement. Later he studied in ISc class at Brajamohan College, Barisal.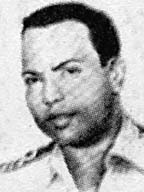 In 1950, while a student in Brajamohan College, Moazzem Hossain joined Pakistan Navy. The same year he received training in British Royal Navy. He was then regularly commissioned in the Pakistan Navy. As an officer of the Pakistan Navy he obtained the degree on Mechanical Engineering and Marine Engineering from British Institute of Mechanical Engineering and British Institute of Marine Engineering in 1958-1960. He was appointed as chief engineer in Chittagong Naval Base in 1966. In 1967, Moazzem Hossain was promoted to the rank of Lieutenant Commander. Later on, he joined in the Barisal branch of East Pakistan Inland Water Transport Authority on deputation.
On 9 December 1967, a team of Military Intelligence Branch arrested Moazzem Hossain under Defense of Pakistan Rule. In 1968, under the amended Code of Criminal Procedure the government formed a special tribunal and instituted a sedition case as State versus Sheikh Mujibur Rahman and Others, which came to be known as agartala conspiracy case. Out of 35 accused in the case, Lieutenant Commander Moazzem Hossain was the second in the list. Moazzem Hossain was accused of organizing the Bangali personnel of Pakistan Navy for an insurrection for making East Pakistan independent. He was accused of persuing his venture from 1964. He was said to have motivated many other East Pakistani officers in the army and air force to his cause.
He was alleged to have held secret meetings with sheikh mujibur rahman, and also with many civil service and armed forces members. However, In the face of vigorous and non-stop mass movement the government was compelled to withdraw Agartala Conspiracy Case on 22 February 1969. After his release Moazzem Hossain joined his service and retired on 18 March 1970.
After retirement from service, Moazzem Hossain' joined politics. On 24 March 1970 he declared a movement for establishing an independent sovereign state on the basis of historic Lahore Resolution. With this end in view he formed the Lahore Prostab Bastabayan Committee on 28 March 1970. He wrote some booklets which include Lahore Prostab Bastobayan, Ek Dafa. Moazzem Hossain turned the Lahore Prostab Bastobayan Committee into a nationalist political party on 21 February 1971. During the non cooperation movement in March 1971 he tried to persuade Bangabandhu Sheikh Mujibur Rahman to organize an armed struggle against Pakistan. He directed his political workers for taking military training. From 16 to 22 March Moazzem Hossain travelled many districts for mobilizing public opinion in his favour. A group of Pak army under Colonel Taj encroached upon his residence in Dhaka in the morning of 26 March 1971 and shot him dead.
In memory of Lieutenant Commander Moazzem Hossain, the training centre of Bangladesh Navy at Rangamati was named as BNS Shaheed Moazzem on 16 January 1976. The Postal Department of the Government of Bangladesh issued commemorative postal stamp in his name on the Martyred Intellectual Day on 14 December 1993. Dhaka City Corporation named a road of the city as Shaheed Lieutenant Commander Moazzem Hossain Sarak. [ATM Zayed Hossain]