---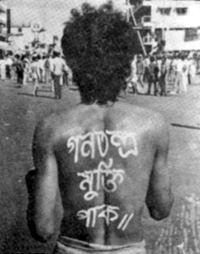 Hossain, Shahid Nur (1961-1987) a victim in a mass movement against Ershad-regime in 1987. Born in 1961 at Narinda in Dhaka Nur Hossain was the son of Mujibar Rahman, an auto-rickshaw driver, whose ancestral home was at village Jhatibunia in Mathbaria upazila of Pirozpur district.
His family had been living at 79/1 Banagram Road in Dhaka since liberation of Bangladesh. Nur Hossain received his primary education from the Radhasundari Primary School at Banagram Road, and while a student of class VIII at Graduate High School in Dhaka, he left school and received training in motor driving. As an activist in politics he was the publicity secretary of the Banagram unit committee of Dhaka City awami league.
As a part of the long drawn movement against the autocratic rule of President hussain muhammad ershad, the alliance of the opposition political parties declared 'Dhaka Blockade' programme on 10 November 1987. The aims and objectives of the programme were to realise the demands for resignation of Ershad government and holding of Jatiya Sangsad elections under a neutral caretaker government. Nur Hossain had his bare back and chest painted with the slogan Sairachar nipat jak, Ganatantra mukti pak (Down with autocracy, let democracy be established). Looking so prominent in the crowd, Nur Hossain was shot dead by the police at the Zero-point in front of the General Post Office.
The slogan imprinted on his body soon turned into the slogan of the irresistable mass movement which eventually led to the fall of the Ershad-government on 6 December 1990.
To commemorate his sacrifice in the struggle for the restoration of democracy in the country, the Zero-square in Dhaka city was renamed after him as Nur Hossain Square. The postal Department of Bangladesh issued commemoration postal stamp in 1991 in honour of his memorable sacrifice. [Rozina Kader]