---
Huq, Muhammad Shamsul (1912-2006) educationist and writer. He was born on 12 October 1912, at Paschimgaon in Laksham upazila, Comilla district. His father was Karimul Huq and mother Mahmuda Khatun.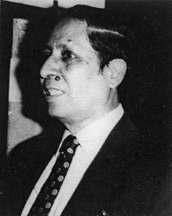 He passed Matriculation examination from Paschimgaon Faijunnissa-Badrunaissa High School in 1927 and IA from Feni College in 1929, both with first division. He obtained BA (Hons) in Political Economy and Political Philosophy Department, Islamia College of Calcutta in 1931. Professor Huq got MA from Calcutta University in 1933. He received special training in London University (1945-46) in School Administration and Teacher Training under the Post War Education Reforms Programme.
Professor Huq started his career as a lecturer of Cacutta Islamia College in 1934. He was subsequently recruited into the Bengali Senior Education Service. Professor Shamsul Huq held top positions in the Education Department. He also carried out research on education and development both at national and international levels. He was Vice-Chancellor of rajshahi university (1965-69) and dhaka university (1975-76). Professor Huq was Scholar-in-Residence (1964-65) at Honolulu, Institute of Advanced Project, East West Centre; a fellow at the Woodrow Wilson International Centre for Scholars, Smithsonian Institution, Washington DC (1971-73); Chairman of the National Curriculum Committee (1975-77).
Chairman of Planning Committee of the Social Science Research Council (1977-82); Chairman of the National Foundation for Research on Human Resource Development (1977-83); Chairman of the National Committee on Examination Reforms (1985-86); a member of UNESCO International Experts Committee on Formulation of Policy of Training Abroad (Paris, 1970); Chairman of Committee on International Cooperation of Commonwealth Education Conference (New Delhi, 1962); a leader of the delegation to the 25th Anniversary Conference (Lagos, 1968); a leader of the Delegation to the 25th anniversary of ECOSOC (Geneva, 1970) and UNESCO General Conference (Paris, 1970).
Shamsul Huq was the founder of 'Foundation for Research on Education Planning and Development (FREPD) which was first of its kind in the country. The office building of the foundation built under joint venture of the Government and the Dhaka University at Palashi has been named after him.
Professor Huq was also President of the Executive Council of the National Association of Social Sciences, Bangladesh (1985-86). In addition, Professor Huq was Chairman of the Bangladesh Institute of International and Strategic Studies (1978-89), Board of Governors of the Board of Trustees of the Bangladesh National Museum (1983-86). He worked in political offices when he became Federal Minister for Education and Scientific and Technological Research (1969-71) of Pakistan. After liberation of Bangladesh, he became first the Adviser in-charge of the Ministry of Foreign Affairs (1977-78) and then the Minister for Foreign Affairs (1978-82) of Bangladesh. He also played a crucial role in formatting the strategic plan and negotiations, based on which saarc (South Asian Association for Regional Cooperation) was set up.
Professor Huq was also the author of several publications, which include: Charging Education in England (1948); Compulsory Education in Pakistan (1954); Education and Development Strategy in South and South East Asia (1965); Pakistan's New Education Policy (1970); Education Manpower and Development in South and South East Asia (1976); The Patterns of Education in South and South East Asia in Encyclopedia Britannica (New Edition); Education in German Encyclopedia LEXIKON DER PEDAGOGI (Verlag Herder); Higher Education and Employment in Bangladesh (co-author, 1983); South Asia Regional Co-operation: Its Underlying Concept, Problems and Promises in Future of South Asia (1985); Role of Education in Development based on lectures delivered at the Bangla Academy (1987); Bangladesh in International Politics: the Dilemmas of the Weak States (1993); Aid, Development and Diplomacy (Co-author, 2001); Bissho-rajniti o Bangladesh (in english World Politics and Bangladesh 2001), and Bikasman Somaj o Shikhka (in english Blooming society and Education 1987).
He died on 23 February 2006 in Dhaka. [Kazi Saleh Ahmed]