---
Huq, Sanaul (1924-1993) poet, translator, civil servant, cultural activist, organizer, educationist. He was born on 23 May 1924 at village Chowra in Brahmanbaria district. His real name was Al-Mamun Sanaul Huq. His father was Zahurul Huq and mother was Syeda Husaini Begum.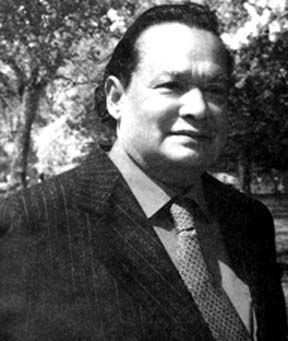 Sanaul Huq did his matriculation in 1939 from Annada School in Brahmanbaria, did his IA in 1941 from Dhaka Intermediate College, his BA Honours (Economics) in 1944 and MA in 1945 from Dhaka University. He obtained his BL degree from the same university in 1946.
Sanaul Huq joined Dhaka University on 29 November 1946 as a Lecturer in Economics and continued to work in that capacity up to 30 June 1948 before he entered the Civil Service of Pakistan through a competitive examination. As a civil servant he worked in many important positions in the government.
Sanaul Huq's interest in literary work and cultural activities grew in family environment. His maternal uncle motaher hosain choudhury (1903-1956) was a poet and writer. It was his association and encouragement that inspired Sanaul Huq to engage in literary pursuit. Sanaul Huq drew a good deal from Motaher Husain Choudhury's thinking. This was reflected in Sanaul Huq's poems, travel accounts, translation work and in various cultural activities.
In the 1940s, Sanaul Huq became known as one of the leading poets. His poems were distinguishable in choice of words, metrical arrangement of syllables, ornamental construction of similes and, above all, in his expressions of love and humanism.
He tried to depict human life and the world in his books of poems Nodi O Manusher Kavita (1956), Sombhoba Onannya (1962), Surya Onyotor (1963), Bichurna Arshite (1968), Ekti Ichcha Sahasra Paley (1973), and Kal Samakal. The contemporary poetic circle and his readers liked them. His patriotic poems were especially appreciated by the readers.
Huq's poems reflected his personality. His other well-known books of poems are: Padmini Shabkhini (1976), Probashe Jakhon (1981), Birashir Kabita (1982), and Uttirno Panchash (1984). His travelogue Bandor Theke Bandore (1964) on his visit to Australia was very well received.
For his contribution to literature, Sanaul Huq was awarded Bangla Academy prize in 1964, Unesco prize in 1965, Lekhok Sangho prize in 1965, Ekushey Padak in 1983 and Alokto Sahitya prize in 1985. He died in Dhaka on 4 February 1993. [Muhammad Saiful Islam]