Khan, Wing Commander M Hamidullah
---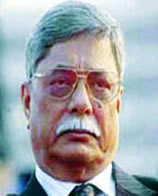 Khan, Wing Commander M Hamidullah (1940-2011) Air Force officer, sector commander in the war of liberation, politician. He was born on 10 February 1940 at village Medinimandal in Lauhajang upazila of Munshiganj district. His father Muhammad Dabiruddin Khan was a civil servant and his mother was Jasimunnesa. Hamidullah Khan had his early education at the places of posting of his father. He obtained his post graduation in 1959 from Jagannath College of Dhaka.
Hamidullah Khan joined the Pakistan Air Force in 1960. On completion of his formal training for two years he was commissioned in 1962. In late 1970 he had been the Assistant Provost Marshal in the headquarters of the East Pakistan Air Force.
Hamidullah Khan joined the War of Liberation in 1971 at its initial stage. Initially he worked as military representative of the Bangladesh Government in exile at the largest guerilla training camp at Chakulia in Bihar. He was one of the principal participants in the historic Bangladesh Sector Commanders Conference held on 10-17 July 1971. He was later appointed as commander of Mainkarchar sub-sector of Sector 11. In recognition of his valour, the Bangladesh Government in exile gave him field promotion to the rank of Squadron Leader. Hamidullah Khan was elevated to the position of sector commander of Sector 11 Bangladesh forces on 9 November 1971. This sector comprised the whole of Tangail district and the Mymensingh district save and except Kishoreganj subdivision.
An Air Force officer, he successfully led 22,800 troops under his command. In addition, he organised the local guerilla fighters to ensure extensive guerilla operations in the sector.
After the liberation of Bangladesh, Hamidullah Khan resumed his post as Squadron Leader in the Bangladesh Air Force. He retired from service in early 1978 as Wing Commander.
Hamidullah Khan was awarded the insignia of 'Bir Pratik' by the Government of Bangladesh in recognition of his valour in the War of Liberation. The Road No. 23 of residential cum commercial town of Banani in Dhaka was renamed after him as Hamidullah Khan Sarak.
Hamidullah Khan joined politics in 1978 as an activist of Bangladesh Nationalist Party (BNP). He was elected a member of the Jatiya Sangsad in 1979 from Munshiganj-2 constituency as a candidate of BNP. He was again elected a member of the Jatiya Sangsad from the same constituency in 1991 and also in the election held on 15 February 1996 as a candidate of BNP. But having denied nomination from BNP in the Jatiya Sangsad election of 1996 Hamidullah Khan seceded from BNP politics and joined the Bangladesh Awami League. But within a year he returned back to the BNP politics. Hamidullah Khan contested in the Jatiya Sangsad election in 2008 from Mirpur constituency in Dhaka as a candidate of BNP, but was defeated. He had been the freedom fighter affairs secretary in the central executive committee of Bangladesh Nationalist Party. He had vital role in organising the conference of the freedom fighters sponsored by BNP and held in Dhaka in December 2011.
Hamidullah Khan was associated with a number of social welfare organisations. He had been the chairman of Board of Directors of Janata Bank, chairman of Muktiyoddha Welfare Trust and chairman of Postgraduate Medical Research Centre. He founded a girls' college at his native village, Medinimandal.
Hamidullah Khan was a writer and contributed a number of articles to journals and newspapers especially on the War of Liberation. His published works include two Bangla books, Ekattare Uttar Ranangan, Bangalir Swadhinater Patabhumi. He died in Dhaka on 30 December 2011. [Mahmood Alam Chowdhury]