---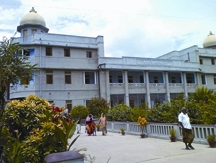 Kumudini Hospital established by Roy Bahadur ranadaprasad saha in 1938 at mirzapur (Tangail) on the bank of the river Louhajang, is a charitable institution providing health services to the poor and rural population. The hospital was inaugurated on 27 July 1944 by the governor of Bengal Lord RG Casey. At the beginning, the number of beds in the hospital was only 20, which has now risen to 750, making it one of the largest private hospitals in the country.
At present, the hospital serves more than 400 patients a day. In addition to taking care of general patients, it provides family planning services and regular check up services for the pregnant women. It also has facilities for childbirth and maternal and child healthcare, a gynecology unit and special units for treatment of diarrhea and tuberculosis.
Unlike most private hospitals in the country, Kumudini Hospital employs its doctors as full-time staff and has a large team of nurses who are graduates of its own nursing school that conducts 4-year nursing education and training courses.
The introduction of the 50-bed TB unit at the hospital in 1970 was a significant event because at that time, little was known in the country about the treatment of this killing disease, the only other TB hospital of the country was at Dhaka, and in rural areas, the usual practice was to avoid all contacts with a TB patient, who only waited for inevitable death. Before the construction of a separate ward in the hospital, the TB ward was a floating one set on covered boats on the river.
Kumudini Hospital does not make any discrimination in giving treatment to patients of different socio-religious groups. There is no 'cabin' system and everybody is given treatment with equal importance under uniform physical facilities. Based on the hospital, a medical college named Kumudini Medical College was established in 2000. [Hena Sultana]