Langley, George Harry (1881-1951) educationist. A British national George Harry Langley was born on 14 July 1881 in London. He obtained his graduation in 1906, and M.A in Philosophy in 1909 from the London University.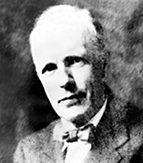 George Harry Langley joined the Indian Education Service in 1913 and was assigned to work as Professor of Philosophy in Presidency College, Kolkata. Within one year of his service, he came to Dhaka to join the Dhaka College as Professor of Philosophy. He continued to serve there till 1921 when he joined the Dhaka University as Professor of Philosophy. Langley was the Provost of Dhaka Hall of the University from 1921 to 1924. He took office of the acting Vice Chancellor of the University in 1925, and was appointed as Vice Chancellor in January 1926 which office he held till June 1934.
Langley was a member of the First Academic Council of Dhaka University (1921), and a member of the Executive Council of the University in 1924.
He was the chairman of Inter University Board of India (1933-34) and a member of the Council of East India Association (1949). Langley presided over the Seventh Indian Philosophical Congress held in 1930 and was the president of the Third Conference of Indian Universities held in Delhi in 1934. He died on 14 February 1951. [Muazzam Hussain Khan]