---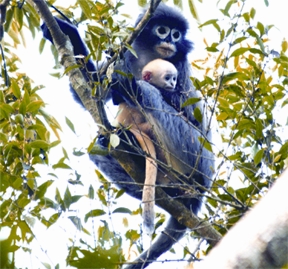 Langur (hanuman) slender, long-tailed monkeys of the order Primates. Bangladesh has the following three species:
Common/Grey Langur, Semnopithecus entellus (=Presbytis entellus), (Hanuman/Mukhpura Hanuman), found in some isolated pockets of the suburbs and rural areas of the greater Kushtia and Jessore (Keshabpur) districts. Pale-orange body has slightly lighter under parts; tail is usually carried over the body by curling when on land. Adults have hair behind the brows radiating from the frontal whorl. Head and body length 51-108 cm; tail 72-109 cm; males weighing 9-2l kg and females 8-18 kg. Group size varies from 8-25. A critically endangered species in the country with a population size of less than 200.
Phayre's Leaf Monkey, Trachypithecus phayrei (=P. phayrei), (Kalo/Chasmapora Hanuman/ Kala Lengur) lives in the forests along bamboo thickets of Sylhet, Chittagong, Chittagong Hill Tracts and Cox's Bazar. Back and tail are grey-black/dark-brown; underparts whitish-grey. There is a white patch around eyes and mouth. Length: males 50-55 cm, females 45-53cm; tail 65-86 cm; males weigh 7-9 kg, females 5-7 kg; group size varies from 3-24.
Capped Langur, T. pileatus (=P. pileata), (Lal/ Mukhpura Hanuman/Lal Lengur), lives in the forests of Chittagong, Chittagong Hill Tracts, Cox's Bazar (including Moheshkhali island), Dhaka, Mymensingh-Tangail, Jamalpur and Sylhet. A cap or erect, long, coarse black hair directed backwards from forehead gives the monkey its name - Capped Langur. Back grey to dark-grey, underparts and beard brownish-yellow to orange-red; distal half to tip of the tail is gradually darker. Length: males 68-70 cm, females 59-67 cm; tail: male 94-104 cm, female 78-90 cm; males weigh 11-14 kg and females 9-11 kg. Group size varies from 3-15. [M Farid Ahsan]