---
Manik, Saifuddin Ahmed (1939-2008) politician and cultural activists. Saifuddin Ahmed Manik was born on 24 June 1939 in Jalpaiguri of West Bengal. His father was Maulvi Siddique Ahmed and mother Alifa Khatun. Maulvi Siddique Ahmed was a teacher and his ancestral home was at village Dhanikunda in Parshuram thana of Feni district.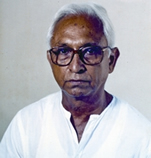 After the partition of India, Saifuddin Manik came to Dhaka in 1948 with his parents and settled permanently at Gopibagh area of the city. He passed Matriculation Examination in 1954 from Muslim Government High School, Intermediate in 1956 from Dhaka College and obtained MA degree in Political Science from Dhaka University. He was devoted to sports and cultural activities since his boyhood. He was one of the founders of Brothers Union Club and of the cultural organisation Chhayanaut. He was the general secretary of the cultural forum Sangskriti Sangsad in Dhaka University.
Shaifuddin Ahmed Manik was a prominent student leader in the 1960s. He was closely involved in the student movement which was launched in 1962 against the military rule of Ayub Khan and the Education Commission Report. At one stage he became a front-ranking leader of the movement. He was elected general secretary of the East Pakistan Students Union (EPSU) in 1965 and became its president (Motia Group) in 1966. He was one of the architects of the 11-point Programme of the student movement. He was a central leader of Chhatra Sangram Parishad (Students' Action Council) that led the mass upsurge in 1969 against Ayub Khan's autocratic rule.
Saifuddin Manik left student politics in 1969 and joined trade union movement. He was elected president of the Workers' Union of Latif Bawani Jute Mills at Demra, and later he organised a new national organisation, the Trade Union Centre (TUC) and was elected its first general secretary.
Saifuddin Ahmed Manik took active part in the liberation war in 1971, and was an organiser of the guerrilla forces formed exclusively with the activists of NAP-CPB-Students Union.
After the liberation, Saifuddin Ahmed joined national politics and was elected member of central secretariat of the Communist Party of Bangladesh (CPB). He became CPB's general secretary in 1987 and later president of the party. The CPB was spilt in 1993 due to ideological differences, and as leader of one group he played a leading role in organising a new political party, the Gano Forum. Since 1996, Manik had been the general secretary of this party. He died in Dhaka on 3 February 2008. [Chapal Bashar]