---
Masjidpara Mosque is situated in the locality of Hoarshi about three miles to the north of Pakundia upazila headquarters, Kishoreganj. Now a protected monument of the Department of Archaeology, Bangladesh, it is also called Hoarshi Mosque. A Persian inscription, fixed over the central doorway of the mosque, records that it was built in 1675-76 AD during the reign of aurangzeb.
This is a plastered brick built square mosque measuring 5.49m a side internally. Its walls are 1.37m thick. The four exterior angles of the building are emphasised with octagonal towers, which extend beyond the parapets and terminate in solid kiosks with cupolas.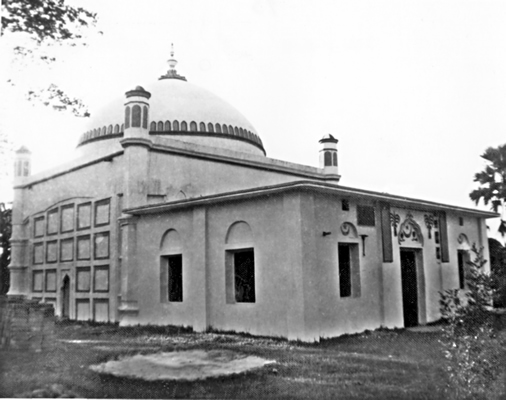 The eastern facade is pierced with three four-centred archways, while there is only one such archway in the middle of the north and south walls. All the archways are kept within rectangular frames. The central doorway, which is traditionally bigger, has in its outer face an additional cusped arch on decorated pilasters. The qibla wall is recessed with three semi-octagonal mihrab niches. The central mihrab, like the central archway, consists of two successive arches - the outer one multi-cusped and the inner one of plain four-centred type and the whole is contained within a rectangular frame. The central mihrab has the usual rectangular projection towards the back. Beside the central mihrab there is a three-stepped pulpit of stone.
The mosque is roofed over with a big dome on a circular drum. The dome, slightly bulbous in outline, is crowned with a beautiful lotus and kalasa finial. The dome is directly carried on the walls and excessively large Bengali pendentives at the four upper corners inside the building. The parapets and cornices are straight.
The corner towers, depicting beautiful kalasa bases, are divided into sections by moulded bands, while the facets of the solid kiosks above the towers are marked with arched-motifs with ogee curve at their apex. The parapets and the drum below the dome are decorated with blind merlons. The central mihrab of the mosque provides a fine specimen of a revival of old terracotta art of the land. The spandrels of the beautiful cusped arch of the mihrab are adorned with three-tiered rosettes, while at the apex of the arch there is a kalasa motif. The rectangular frame of the mihrab is elaborately decorated with floral scrolls issuing from the ornamental flower vases at the bottom. Immediately above the frame there is a slightly sunken narrow space filled with interlocking patterns forming loops with rosettes.
The central doorway in the eastern facade is also decorated with terracotta, the motifs and the way of their execution being the same as in the central mihrab. The remaining three other facades are entirely covered with rectangular stucco panels, which are topped over by a curved moulded band along the whole length of the wall.
The mosque provides an interesting example of a synthesis of the Sultanate and Mughal building styles. The Sultanate features are exemplified by the terracotta ornamentation and the Bengali pendentives, while the Mughal constructional peculiarities are corroborated by the bulbous shape of the dome on drum, the horizontal parapets and cornices, the rectangular panels and smooth plastering in the walls. [MA Bari]