Miskin Shah Mulla Mosque and Tomb
---
Miskin Shah Mulla Mosque and Tomb The tomb of miskin shah mulla along with a mosque is situated on the eastern slope of a hill known as Madrasa Pahar in the Chandanpura mahallah of the Chittagong City (Ward 2).
This place is not very far off from the Mughal city-centre called Chawk Bazar. The mosque and tomb complex is also called by the common people as Mulla Pir's Takia. A good number of educational institutions were established around the takia during British rule.
The small and oblong Takia Mosque is roofed over with six domes, three in a row, each placed on a short octagonal drum. Four octagonal engaged turrets crowned with cupolas are built at the four-corners of the mosque. The walls of the mosque are plastered and have thick coats of whitewash. It measures 10.36m in length, 7.77m in breadth and roughly 2.90m in height.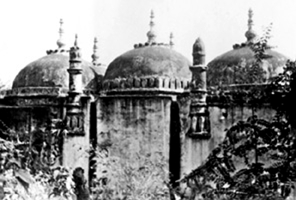 The prayer chamber can be approached through the three entrances on the east wall. The central entrance is bigger than the side ones, and fashioned into a fronton, flanked by two small octagonal turrets. The back wall of the mihrab has no projection but marked with two slender engaged turrets.
Two windows, one each on the northern and southern walls, were turned into doors at the time of expanding the courtyards. Of the three mihrabs, the central one is bigger. The mihrabs are set parallel with the entrances. The prayer chamber is divided into two aisles and three bays by two masonry piers. Each shaft of the piers has engaged miniature double columns at the cardinal point with shoulders holding up the pendentives. Seven arches have sprung from two central and six wall-piers. Many niches are placed on the interior and exterior walls of the mosque.
The tomb of Mulla Miskin lies adjacent to the mosque on the south and has, within walled enclosure, two graves. The tomb chamber is not spacious and the eastern grave is bigger than the western one. One can enter into the tomb enclosure through a low door on the south wall. At the centre of the east wall some visible remains of an old entrance can be seen which has taken at present the form of a niche.
The original tomb has no roof. There are four engaged turrets at corners with fronton-like projection in the middle portion of the four walls. The walls are decorated with niches, recesses and kanjuras. [Shamsul Hossain]