Morshed, Justice Syed Mahbub
---
Morshed, Justice Syed Mahbub (1911-1979) lawyer and jurist. Syed Mahbub Morshed was born on 11 February 1911 at Murshidabad. He obtained BA (Honours) degree in Economics from Calcutta Presidency College in 1931, MA from Calcutta University in 1932, and LL.B degree in 1933. After becoming a barrister from Lincoln's Inn, London, in 1939 he joined the Calcutta High Court Bar. He joined the Dhaka High Court Bar in 1951, and was appointed a judge of the High Court in 1955. He was a judge of the Pakistan Supreme Court in 1962-63. In 1964, he became the Chief Justice of Dhaka High Court, and resigned from service on 15 November 1967.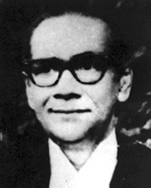 Apart from playing an active part in the Language Movement (1952) he contributed significantly to the formation of united front in 1954. He played a leading role in organising the birth centenary of Rabindranath Tagore in 1961 as chairman of the organising committee.
Justice Morshed waged his struggle from the seat of justice in order to establish Rule of Law and fundamental human rights at a time when the democratic rights of the people were curtailed during the rule of Mohammad Ayub Khan. He played an active role in the anti-Ayub Mass Upsurge of 1969. He extended support to the 11-points of the student community, and exerted pressure on the government for the release of Sheikh Mujibur Rahaman and the withdrawal of agartala conspiracy case. He spoke in favour of autonomy of East Bengal based on the six-point programme and parliamentary democracy at the round table conference convened by Ayub Khan. At that time, his clashes with the provincial governor Monaem Khan was quite well known. He supported the War of Liberation in 1971.
Although he earned reputation as a lawyer, Syed Mahbub Murshed's fame spread far and wide as a judge. He strove very hard to uphold the dignity and neutrality of a judge. His historic verdicts in the Minister's Case, Colonel Bhattacharya's Case and the Betel-leaf Case were the bright examples of a courageous judge devoted to proper dispensation of justice. He died in Dhaka on 3 April 1979. [Sambaru Chandra Mohanta]