---
Mostafa, ANM Gholam (1942-1971) journalist, martyr intellectual. Abu Naser Mohammad Gholam Mostafa was born on 24 Agrahayan 1348 (1942 AD) at village Pangagram in Nilphamari district. His father Jahiruddin Ahmed was a muhuri to a pleader.
Golam Mostafa had his early education at Melapanga Madrasa. He passed matriculation examination in 1958 from Dinajpur Zilla School, IA in 1960 from Surendranath College, and had his graduation in 1963 from the same college. He obtained MA degree in Bangla Language and Literature in 1965 from Dhaka University.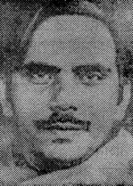 Gholam Mostafa was involved in politics in his student life and had a vital role in cultural activities in Dinajpur. He was the secretary of student union in Dinajpur Zilla School. Mostafa was the joint secretary of the district unit of East Pakistan Chhatra Union. He took active part in the anti-Ayub Movement in 1962 and was arrested and kept confined for eight months. He was again arrested after one month of his release. While a student in the Dhaka University, Gholam Mostafa was the cultural secretary of the central committee of East Pakistan Chhatra Union (Menon group).
While a student in the Dhaka University, Gholam Mostafa began his career as a journalist in the news section of the Daily Sangbad. He joined the Daily Azad in 1966 as literary editor, and was simultaneously assigned to edit the monthly journal Mohammadi of the Azad group. He used to edit a literary journal titled Antaranga. Gholam Mostafa joined the Daily Purbadesh as senior sub-editor in August 1969, and was assigned to edit the literary section of the paper. He continued to serve in Purbadesh till his death in 1971.
Gholam Mostafa contributed a number of literary articles and features in the newspapers and journals. His book Antaranga Alokey is a compilation of discourses of some distinguished persons of the time collected through personal interview. His translation work is Shveta Kuntala.'
Golam Mostafa was a man of progressive ideas, and had been an ardent and active supporter of the war of liberation. He maintained secret liaison with the freedom fighters operating in Dhaka region and he helped them in all possible ways. He is reported to have collected fund and medicine from different sources for distribution to the freedom fighters. He was vocal against publication of news and reports in the Purbadesh serving interest of the Pak occupation army. This attitude made him a target of the pro-Pakistani journalists who used to communicate to the Pak army information of adverse activities of the pro-liberation journalists including Gholam Mostafa.
At the dawn of 11 December 1971, while Gholam Mostafa was walking in the lawn of his residence at Gopibagh with his infant child on his lap, a group of armed activists of al-badr on a jeep appeared before the gate. They carried with them one Shamsuddoha, a brother-in-law of Gholam Mostafa, who was forced to identify the residence of the victim. Two of them crossed the gate and asked Gholam Mostafa to go with them to the Purbadesh office on some business. Mostafa followed the activists of al-Badr who carried him on the jeep to some unknown place. No trace of Gholam Mostafa was found thereafter. Mostafa is reported to have been killed by the activists of al-Badr.
The Postal Department of the Government of Bangladesh issued commemorative postal stamp in the name of ANM Gholam Mostafa on the Martyred Intellectual Day on 14 December 1991 in recognition of his sacrifice for the cause of the nation. [Muazzam Hussain Khan]