---
Motijheel, Murshidabad Motijheel or Pearl lake is situated about one and a half kilometre south of Lalbagh and about three kilometres south-east of Hazarduari Palace at murshidabad, west bengal. The horse-shoe shaped lake, according to Rennell, was one of the meandering courses of the Bhagirathi that once flowed near this area. Within the bend of the lake were built a beautiful palace called 'Sang-i- dalan' (stone palace), a lofty gateway, a mosque and some other structures by nawazish muhammad khan alias Shahmat Jang, nephew and son-in-law of Nawab alivardi khan. The palace of Nawazish Khan was built using materials, especially the black basalt pillars brought from the ruins of Gaur and thus assumed the name Sang-i-dalan. After his death, his widow ghaseti begum lived here until sirajuddaula took over the palace and seized enormous amount of treasures in 1756 AD.
The Mosque of Nawazish Khan, also known as 'Kala Masjid' (Black Mosque), is situated at the north to the neck of the lake and was constructed in the year 1163 AH (1749-50 AD), as mentioned in a Persian inscription affixed to the facade of the monument without referring the name of the king or dynasty. It is known that a copy of the Holy Quran, believed to have been calligraphed by Nawazish Khan himself is kept preserved in the mosque.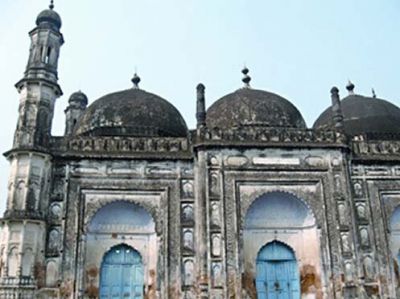 The mosque is rectangular in plan and is covered by three hemispherical domes. Resting on octagonal drums with ribbed decoration, the domes are crowned by lotus and kalasa finials. On the four corners of the mosque, rise octagonal minarets capped by bulbous kiosks supported on slender pillars. The shafts of the minarets are decorated with shallow niche motifs and moulded bands. The facade is decorated in a very restrained fashion except for the friezes and vertical panels alongside the arches, which are decorated with cartouche and niche motifs respectively. The portal is projected from the main wall and flanked by guldastas on either side. The battlemented parapet with ornate merlons adds some beauty to the building.
Three cusped arch doorways on the east open directly to a single-aisled prayer hall. The qibla wall has three mihrabs of which central one is bigger than the flanking ones. Inside the mosque, it is clean and well maintained and the stucco ornamentation on the wall inside is still visible because of periodical conservation done by the authority. It is a protected monument of Archaeological Survey of India.
To the east of the mosque there is a small enclosure, which contains tombs of Nawazish Khan, his adopted son Ekramuddaula, Ekram's tutor, and of Nawazish Khan's General. Outside the enclosure, a separate tomb of Ekram's nurse is there which was built by simple masonry. To the west of the mosque and beyond the compound wall, there stands a ruined lofty royal gateway, also built by Nawazish Khan. Attached to the mosque is another building, which is believed to be the treasury. [Sutapa Sinha]