---
Munier, Ashfaque (1959-2011) media personality, cinematographer, private sector electronic journalist. He is better known as Mishuk Munier. He was the second son of martyr intellectual munier chowdhury of Dhaka University. Mishuk Munier was born on 24 September 1959 in Dhaka. He passed SSC and HSC examinations from the University Laboratory School and College. He obtained post-graduation degree from the Department of Mass Communication and Journalism of Dhaka University in 1982.
Ashfaque Munier while a student started his career in the Audio Visual Department of the national museum. As a part of student exchange programme he went to Canada in 1980 and worked there in the Brunswick Natural History Museum. Mishuk Munier joined as a Lecturer in the Department of Mass Communication and Journalism of Dhaka University in 1990. He went to the USA with a fellowship for training at Hopkins University. In 1999, Mishuk Munier joined Ekushey TV as the chief of News Section. Here he came in close contact with Simon Dring, the veteran journalist of BBC.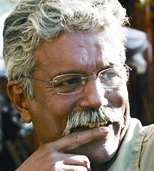 In 2001, he went to Canada and established an Internet based TV news channel, The Real News Network, alongwith some of his friends. He also worked as a freelance photographer there. At the closing of 2010 Mishuk returned home to float a private TV news channel, ATN News. His idea and leadership made the channel very popular within a short time. He was associated with the ATN News as its chief executive officer till his death. His aptitude in photography since his student life leads him to the art of cinematography. Later he was inclined to digital media and broadcasting.
Mishuk Munier was the cinematographer of tareque masud's most of the films including a documentary Adamsurat (1989) and a feature film Runway (2010). Mishuk Munier also produced documentary films and earned international award. His film Dhaka Tokai (1986) had an award in the Oberhauzen International Short Film Festival and Return to Kanadahar (2003) won the Canadian Emmy Gemini Award.
Ashfaque Munier alongwith Tareq Masud were killed in a road accident on 13 August 2011 on their way back to Dhaka from a shooting spot of Minikganj. [Asif Munier]