Mustafa, KG (1928-2010) journalist, columnist, language movement activist and former ambassador. He was born at Kuripara in Sirajganj in 1928. His full name was Khondakar Golam Mustafa.
His father was Khondakar Wasiuzzaman and mother Tahiatunnesa. Mustafa passed Matriculation examination in 1944 from Banwarilal High School of Sirajganj and then studied at intermediate level initially in Pabna edward college and then in Islamia College of Kolkata. He obtained BA (Hons) degree in Political Science from the dhaka university in 1951. While an MA student, he got involved in the movement of the fourthclass employees along with Bangabandhu sheikh mujibur rahman and was expelled from the university. KG Mustafa actively participated in the language movement of 1952. He obtained MA degree in Political Science in 1957.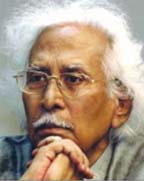 While studying at Islamia College, he took up journalism as his profession and joined the Daily Azad of Kolkata. Later, he worked in the Dainik Insaf, Dainik Ittefaq, Bangladesh Observer, Dainik Purbakone and the Sangbad. He was the editor of the Dainik Muktakantha in the late 1990s. He was the president of the Pakistan Federal Union of Journalists and was the founder president of Bangladesh Federal Union of Journalists.
KG Mustafa also worked as a correspondent of the weekly Iraq Today and the Daily Baghdad. KG Mustafa received the prestigious Ekushey Padak in recognition of his participation in the 1952 language movement. In addition, he received a number of awards for his contribution towards journalism. He played a significant role in the development of journalism in the country. He had also been the leader of the journalists for a long time.
KG Mustafa was the ambassador of Bangladesh in Lebanon from 1972 to 1974 and then in Iraq from 1974 to 1975. He was also involved in the communist movement for a long time.
He died on 13 March 2010. [Siddiq Mahmudur Rahman]