Nawaz, Ali (1926-2005) educationalist, researcher and writer was born in Shahebabad village under Brahmanpara upazila of Comilla district on 25 December, 1926. He lost his father Hasan Ali while a child.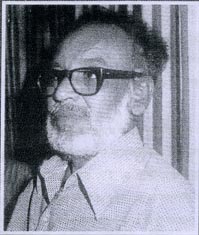 Ali Nawaz received early education from the primary school of his village. He passed the Matriculation Examination from one of the oldest institutions of Comolla 'Burichang Ananda High School' with a stipend and IA from Comilla Victoria College. He did his graduation in Bangla from the same college under the University of Kolkata and earned MA (1951) and PhD degrees in Bangla literature from the University of Dhaka.  He also earned a Diploma in Chinese language from the Beijing Language institution under the University of Beijing during 1965-66. At that time he taught Bangla language for hte students of China language.
Ali Nawaz began his career as a teacher of Comilla Victoria College. Later he was made an Assistant Professor in the Karachi Central Government College. He spent six years in Karachi University as a part time teacher there. He joined as a Professor of Bangla in the Bangladesh Agriculture University Mymensingh in 1962. Being the head of the department there Ali Nawaz created the Bangla cell like the 'Urdu Cell' opened earlier in Layalpur' Agriculture University, Pakistan. He also discharged the responsibilities of the Director of the cell. Besides, he was the chairman of Basic Science and Language Faculty. He retired from the Agriculture University in 1987. And after the retirement Ali Nawaz became the Adviser, Land Reform Cell, Ministry of Land and conducted a massive research work on land system and land reforms.
Ali Nawaz was involved with political activities in 70's. At that time he came into close contact with Syed Nazrul Islam, Vice present of Bangladesh, Syed Abdus Salam, high commissioner of Bangladesh (The United Kingdom) and closest one of Maulana Abdul Hamid Khan Bhasani (1880-1975), religious personality and politician.
Ali Nawaz is the author of 25 books, which include poem, lyric, eassy, and research work. He begged an honourary DSc degree from West Bengal, India for his literary contribution and World Development Parliament, a Delhi-based organisation awarded him 'Bangladesh Shahitya Unnoyan Ratna' title. The objective of his research on both the land reform and the sayings of Khona was to enrich the agro-based Bangladesh. His epoch making research titled. The land system and land reform in Bangladesh: A Historical Reveiw, brought the Justice Muhammad Ibrahim Gold Medel 2002 for him from the Asiatic Society of Bangladesh in 2004. His PhD thesis on 'Saying of Khona' was published in two volumes-'Khonar Vachon and Krisi' (The saying of Khona and Agriculture) and 'Khonar Bachon Krishi O Bangali Sanskriti' (the Sayings of Khona, Agriculture and the Bengali Culture). His last published book was also a follow up research work on the same subject.
Ali Nawaz was an executive Committee member of International Anthropology Society and Asian Folklore Society. He was also a active member of Bangladesh Anthropology Society and Bangladesh Folklore Parishad. At the last leg of his life Ali Nawaz started a research work on the common element of South-East Asian Languages and their anthropological-cultural background. But he could not finish the work as he died in 2005. [Jahangir Alam]