---
Saber, Shahid (1930-1971) journalist and writer, martyr in the War of Liberation. His real name was AKM Shahidullah. Shahid Saber was his pen-name. He was born on 18 December 1930 at village Eidgah in Cox's Bazar. His father was Salamatullah and mother Shafiqa Khatun. His primary education began at Eidgah Primary School. After studying up to class four he was admitted to Hare School in Kolkata. After the partition of India in 1947 he studied at Chittagong Collegiate School and passed matriculation examination from that school in 1949. He then took admission in IA class in Chittagong Government College.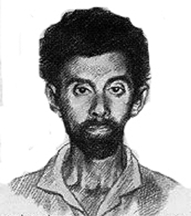 Shahid Saber got involved in cultural pursuits while he was a school student. There was an organization called Chhotader Asar at Baluhakkak Lane in Park Circus of Kolkata. Shahid Saber was the librarian of that organization. He was then editor of a wall-paper titled Chhanda-shikha. After passing the matriculation examination he got himself associated with the Mukul Fouj movement in Chittagong.
Shahid Saber got involved in progressive politics while he was a college student. When the Muslim League government of Pakistan launched large-scale arrest of communist party workers, he was arrested in February 1950. He passed I.A examination in 1951 while interned in Rajshahi central jail. After four years of detention he was released in 1954. Shahid Saber passed B.A examination from Jagannath College in 1955. After serving as an assistant teacher at Dhaka West End High School for some time, he joined as assistant editor of the daily Sangbad. He appeared in the Federal Information Service examination and topped the list of the successful candidates. But he could not get the appointment because of his previous detention as political prisoner.
Shahid Saber became mentally deranged towards the end of 1958 and was never recovered. His noted literary works include: Arek Duniya Thekey (from another world) written while he was a prisoner (published in Chaitra issue of 1357 BS of Kolkata-based periodical Natun Sahitya), collection of stories Ek Tukro Megh (1955), juvenile literature Khudey Goendar Obhijan (1955), translation work Iskapaner Bibi, Pagoler Diary, Kalo Meyer Swapna.
Shahid Saber used to reside at the office building of the daily Sangbad. He was burnt to death when the Pakistani forces set fire in the office of the Sangbad on 31 March 1971. [Selina Hossain]