---
Salam, Abdus2 (1925-1952) one of the martyrs of the language movement. 'Abdus Salam was born on 27 November 1925 in the village Laxmanpur (now named 'Salam Nagar') under Matubhuiyan union of Daganbhuiyan upazila in Feni district. His father was Munshi Abdul Fazel Miah and mother Daulater Nesa. Munshi Abdul Fazel Miah joined the Second World War and worked in Basra of Iraq.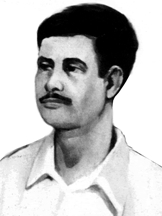 Abdus Salam spent his early life in Laxmanpur village. He started primary education in Krishnarampur Primary School. Upon completing primary level, he got admitted into Matubhuiyan Kalimullah Minor School (now 'Matubhuiyan High School'). Salam studied at this school from grade six to eight. Later, he moved to Daganbhuiyan Kamal Ataturk High School. But constrained by financial problem he had to discontinue education after grade ten. Salam went to Kolkata where he stayed with his cousin sister's husband Abdul Qader who used to work in Kolkata port. He managed a job for Salam in the port establishments. After 1947, Salam moved to Dhaka. He got a clerical job as a record keeper in the department of industries. As a member of the government ministerial staff, Salam got accommodation in Palasi Barrack at Azimpur.
However, on 21 February 1952, the students of Dhaka University, Dhaka Medical College and other schools and colleges organized a procession in support of their demand for making Bangla one of the State Languages of Pakistan. Many members of public also joined the procession. Abdus Salam was one of them. The demonstration started from the Dhaka University Arts Building, now the new wing of Dhaka Medical College, and surged towards the Jagannath Hall, then the Legislative Assembly of the Government of East Pakistan. The procession proceeded in defiance of the section 144 of the Criminal Procedure Code of 1898. The police responded the unauthorized procession by opening fire on the demonstrators. As a result a number of demonstrators were killed and many other injured. Salam was hit by a shot and wounded seriously. He was given treatment at Dhaka Medical College Hospital but eventually he succumbed to the bullet wounds and died on 7 April 1952. He was buried in Azimpur graveyard alongside other martyers.
In February 2000, Language Martyr Abdus Salam was honoured with the national award 'Ekushey Padak'. After this recognition, renowned sculptor Rasa took an initiative to make a portrait of Abdus Salam, as his photograph was not available. Rasa named this initiative as 'Astitver Shekade Alo' (Light behind the Root of Existence). A group of Bangladeshi artists and sculptors were involved in this effort. The artists were: Abdul Mannan, Alokesh Ghosh, Ahamed Shamsuddoha, Shajahan Ahamed Bikash, Sheikh Afzal and sculptor Rajeeb Siddiqee.'
With a view to preserving the reminiscence of Abdus Salam, 'Bhasha-Shahid Abdus Salam Smriti Parishad' was founded in 2000 under the initiative of Mohammad Shahadat Hossain, editor and staff reporter, the weekly Alokita Feni and Nayadiganta. From this year, the local people of Laxmanpur village named the village as 'Salam Nagar', a name which has been recognized government in 2009. The auditorium of Daganbhuiyan Upazila Parishad has been named 'Language Martyr Salam Auditorium. Besides, the name of Feni District Stadium has been changed locally and it was named 'Language Martyr Salam Stadium. Moreover, a community centre was founded named 'Language Martyr Salam Community Centre' in Mizan Road with the initiative of Feni Zila Parishad.'
In 2008, the government founded the 'Language Martyr Abdus Salam Library and Memorial Museum' adjacent to the primary school of Salam Nagar.
Many noted poets wrote and composed poems and songs about Abdus Salam and other martyers. Among them are begum sufia kamal (Amon Ashcharya Din), shamsur rahman (February 1969), Mahbub ul Alam Chowdhury (Ekush: 1970), hasan hafizur rahman (Amar Ekushe), Belal Mohammad (Ekush-er Prerana), and many other. [Shahida Akhter]