Selbarsi, Fazlul Hoque (1893-1968) journalist, writer, revolutionary politician. He was born in 1893 at village Selbaras in Dharampasha upazila of Sunamganj district. He had his early education at Singdha Minor School. His education was interrupted due to the loss of his parents in his boyhood. While a student of class x in Sunamganj Government Jubilee High School in 1915 he left the school and went to Kolkata. He passed Matriculation examination there in 1916 and got himself admitted into FA class in Ripon College. But soon he discontinued his studies in college and took to journalism.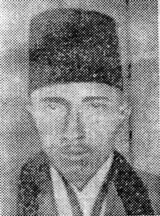 Fazlul Hoque joined the weekly Mohammadi sometime in 1917. Later he worked as editor in Daily Nabayug (1919-1922) and as editor of weekly Mohammadi (1924-1929), weekly Al-Muslim (1929-1934) and weekly Yugabhery (1934-1935). He joined the Daily Taqbir in 1935 as editor, but the paper was soon proscribed for its anti-government role. Later he was associated with the papers like Daily Soltan, Muslim, Naya Bangla and Al-Eslam. After the partition of India in 1947, Fazlul Hoque came to Dhaka and worked for a long time in the Daily Sangbad and in Nezam-e-Islam.  
Fazlul Hoque Selbarsi developed in him revolutionary ideas right from his student life. He was an ardent follower of Pan-Islamism of Saiyid Jamaluddin Afghani (1839-1897), the great thinker and propounder of Muslim doctrine against modern imperialism. Fazlul Hoque was also inspired by the militant concept of Ismail Shaheed of Balakot, Anwar Pasha and Jaglul Pasha of Egypt. In Kolkata he floated an organisation of the students styled as Anwar Chhatra Samiti of which he was the president. In 1916 while a student in Kolkata, Fazlul Hoque formed a secret revolutionary party named Jehad Party. He had an oath taking of the young activists at the Sholahajari Masjid in Khidirpur. At the initial stage he managed to collect nearly 650 youths as cadres of the Jehad Party.
Simultaneously with his terrorist activities, Fazlul Hoque was also involved in politics as an activist of all india national congress and later of the all india muslim league. For his anti-British activities he was arrested for a number of times. He joined the non-cooperation movement in 1920. In 1921, three warrants were consecutively issued in his name for his alleged sedition. He remained absconding for months and continued his secret activities. But later at the instance of Maulana abul kalam azad he left Bengal for Afghanistan in 1922 to have a safe ground for his anti-British activities. Subsequently, while on way to Peshawar from Afghanistan he was arrested by the army on the Peshawar border, and was kept confined inside a dark cell in the Peshawar cantonment for 48 days. Later he was carried to Sylhet for trial in the court and was convicted on sedition for three years. He was released from jail in 1924.
Fazlul Hoque contributed a lot of articles to the newspapers and periodicals. A good number of his political articles were published in the Daily Ananda Bazar Patrika. Most of his revolutionary articles were published in the Dhumketu of kazi nazrul islam. His early poetical works like Saint Helena, Okba, and Bangla poetical rendering of the Tarana-i-Milli of Allama Iqbal earned for him great recognition from the elite readers. His books titled Anwar Pasha and Shaheed-e-Azam are left unpublished.
Fazlul Hoque was a close associate of the rebel poet Kazi Nazrul Islam. It appears that Fazlul Hoque's revolutionary ideas had immense influence in moulding revolutionary conviction of Kazi Nazrul Islam expressed in his poems. The ideal heroes of Fazlul Hoque like Anwar Pasha and Jaglul Pasha were symbolized in Nazrul's poems. Nazrul's version in a poem as Jaglul mama Fazlul Hoque (Fazlul Hoque is my Jaglul) expressedly recognizes Fazlul Hoque as incarnation of his political mentor, Jaglul Pasha of Egypt.
Sunamganj Sahitya Majlish accorded a grand public reception to Fazlul Hoque Selbarsi at Sunamganj Public Library Hall on 26 April 1967.
Fazlul Hoque Selbarsi died on 8 November 1968 at his native village Selbaras. [Muazzam Hussain Khan]