---
Shah Shuja Mosque2 is located a few yards north of the walipur alamgiri mosque, in Walipur village under hajiganj upazila of Chandpur district. Many original features of the building have disappeared. Nevertheless, enough still survives to allow us to identify it as an important relic of the past.
Built entirely of brick the mosque is oblong in plan (14.02m by 6.86m in the outside) and has four octagonal towers in the exterior angles, bases of which are still in situ. The mosque has five arched doorways-three in the east and one each on the north and south sides.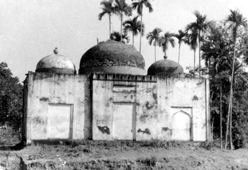 Of all the eastern doorways, the central one is larger and projected outside, and open out under half-domed vaults. Corresponding to the eastern doorways there are three mihrabs inside the qibla wall. The central mihrab, being wide and semi-octagonal in design, has a projection towards the backside. The flanking mihrab niches are of the rectangular type.
The bordering turrets of the central archway and central mihrab projections have disappeared. Inside, the mosque is divided into three divisions by two wide arches - the central one being square and bigger than the rectangular ones at each side. Over the roof are three domes on octagonal drums, the central dome being bigger than the side ones. All these domes, terminating in lotus finials, are built according to the same systems as is islam khan's mosque in Dhaka.  
The mosque was in a bad shape, but local people have recently repaired it. The building is now wholly devoid of ornamentation save the traces of the panels in the eastern facade and a tiered rosette at the inside apex of each dome.
The inscription tablet of the mosque is now missing. Local legends relate that Shahriyar Abdullah, an officer of shah shuja, built it in 1656. It is locally said that Shahriyar Abdullah erected the mosque and named it 'Shuja Masjid' in honour of his master. There may be some truth in the tradition since the building, in its internal disposition and other constructional peculiarities, resembles another mosque of Shah Shuja's time at Mughaltuli in Comilla town. [MA Bari]