---
Shil, Kanailal (1895-1974) dotara player, song writer, composer, and collector of folk songs, was born in the village of Kairal under nagarkanda upazila of faridpur district. Kanailal perhaps inherited his love for music from his father, Ananda Chandra Shil, whom he lost at an early age.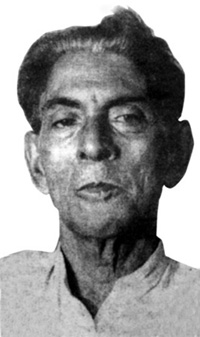 Kanailal started learning the violin from Basanta Kumar Shil at the age of eight. Subsequently he studied under Motilal Dhupi, a celebrated violinist. Joining jatra troupes and musical groups performing gazir gan, kavigan and kirtan, he travelled across Bengal. At the shrine of Saint Dagu Shah of vikramapura, he heard some one playing the dotara and that inspired him to learn it. Returning home, he began to take lessons about playing dotara from Tara Chand Sarkar.
Accompanying a Krishvalila group to Ambikapur in Faridpur, he met jasimuddin. Realising Kanailal's talents, Jasimuddin took him to Kolkata in 1930. At Kolkata Kanailal met abbasuddin ahmed, who encouraged him to collect and compose folk songs. Abbasuddin also helped Kanailal to join the Gramophone Company, where the musician played the dotara as an accompaniment to the songs of kazi nazrul islam. Kanailal also played the dotara at the Kolkata centre of All India Radio as a regular artiste. While working at the Gramophone Company, Kanailal became acquainted with ustad enayet khan, a renowned sitar player, who helped him to play classical music on the dotara. After the partition of India in 1947, Kanailal moved to dhaka, where, two years later, he joined the Dhaka centre of Radio Pakistan as a staff artiste. He remained attached to it till his death.
Kanailal both collected and wrote lyrics. He also composed the tunes of many songs, several of which were recorded by eminent artistes such as sachin dev burman and Abbasuddin before Partition and abdul alim, Abdul Latif, bedaruddin ahmad, Ferdousi Rahman, Neena Hamid, and Fauzia Khan subsequently. In recognition of his achievements in the field of music, the Government of Bangladesh honoured him with posthumously with the Ekushey Padak in 1987. [Mobarak Hossain Khan]