---
Shyampur Thana (Dhaka metropolitan) area 1.66 sq km, located in between 23°41' and 23°41' north latitudes and in between 90°25' and 90°25' east longitudes. It is bounded by jatrabari thana on the north, kadamtali thana and keraniganj upazila on the south, Kadamtali thana on the east, gendaria thana and Keraniganj upazila on the west.
Population Total 109333; male 62186, female 47147; Muslim 104957, Hindu 4291, Buddhist 61 and others 24.
Water bodies Main river: buriganga.
Administration Shympur Thana was formed in 1998 comprising parts Sutrapur and Demra thanas. A part of this thana was included into Kadamtali thana formed on 23 September 2008.
Thana
Ward and Union
Mahalla and Mouza
Population
Density (per sq km)
Literacy rate (%)
Urban
Rural
Urban
Rural
1+2 (part)
14
109333
-
65864
65.36
-
Ward and Union
Ward and Union
Area (sq km)
Population
Literacy rate (%)
Male
Female
Ward no. 83
0.66
24724
20130
70.84
Ward no. 87 (part)
0.55
16480
12277
57.61
Ward no. 90 (part)
0.45
20982
14740
67.64
Source Bangladesh Population Census 2001, Bangladesh Bureau of Statistics.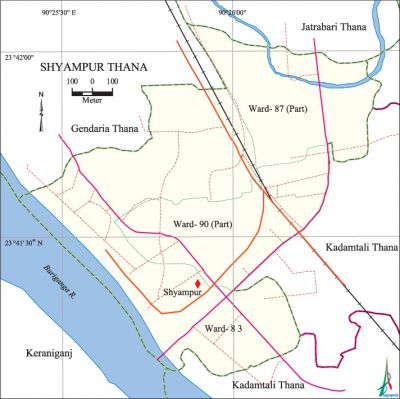 Archaeological heritage and relics Sree Sree Ramkrishna Goswami Akhra, Bigraha Mandir (1642).
Religious institutions Mosque 20, temple 3, sacred place 1.
Literacy rate and educational institutions Average literacy 65.36%; male 68.0%, female 62.03%. Educational institutions: college 3, secondary school 6, primary school 28, NGO school 7, madrasa 9. Noted educational institutions: Shyampur High School, Shaheed Zia Girls' School and College, Jatrabari Ideal High School, Jurain Ashraf Master Adarsha High School, Dholairpar High School, Natun Jurain KM Mainuddin High School, Muradpur Islamia Dakhil Madrasa.
Cultural organisations Club 7, cinema hall 2, playground 2.
Main sources of income Agriculture 0.56%, non-agricultural labourer 1.01%, industry 4.54%, commerce 32.99%, transport and communication 14.54%, service 24.49%, construction 4.08%, religious service 0.12%, rent and remittance 3.11% and others 14.56%.
Ownership of agricultural land Landowner 36.54%, landless 63.46%.
Main crops Vegetables.
Main fruits Mango, coconut, guava.
Fisheries, dairies and poultries Fishery 4, dairy 9, poultry 20.
Communication facilities Total roads: 18.36 km. Khilgaon Flyover is notable.
Extinct or nearly extinct traditional transport Palanquin, horse carriage, bullock cart.
Noted manufactories Garments industry, ice cream factory, bakery, saw mill.
Cottage industries Handicrafts, weaving, blacksmith.
Hats, bazars and fairs Market 3, kancha bazar 5.
Main exports Ready made garments, vegetables.
Access to electricity All the wards of the thana are under electrification net-work. However 97.72% of the dwelling households have access to electricity.
Sources of drinking water Tube-well 37.89%, tap 61.50%, pond 0.09% and others 0.52%.
Sanitation 86.52% of dwelling households of the thana use sanitary latrines and 12.80% of dwelling households use non-sanitary latrines; 0.68% of households do not have latrine facilities.
Health centres Clinic 6, satellite clinic 3.'
NGO activities Operationally important NGOs are brac, asa, proshika. [Md. Tuhin Molla]
References Bangladesh Population Census 2001, Bangladesh Bureau of Statistics.