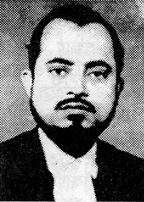 Ahmad, Farid (1923-1971) lawyer, politician. He was born on 3 January 1923 at Rashid Nagar in Ramna upazila of Cox's Bazar district. He passed Matriculation from Cox's Bazar Government High School and IA from Chittagong Government College. He obtained BA (Hons) in English in 1945 and MA in 1946 from Dhaka University. He got LLB degree in 1947.
Farid Ahmad was involved in politics in his student life. He was elected as vice president (VP) of Dhaka University Central Student Union (DUCSU) in 1946-1947. He joined the Nezam-e-Islam Party in 1952 and had been the general secretary of the central committee of the Party from 1954 to 1969. Farid Ahmad was elected a member of the East Bengal Provincial Assembly in 1954 as a nominee of united front. In 1955 he was elected a member of the Pakistan Constituent Assembly. He was then the chief whip of East Bengal Provincial Assembly. He was included in the central cabinet of ibrahim ismail chundrigarh in 1957 in charge of the Ministry of Labour.    
Farid Ahmad was elected a member of the Pakistan National Assembly in 1962. He was the chairman of Public Accounts Committee of Pakistan National Assembly during 1962-1965. In 1964, he was the chairman of Combined Opposition Party (Cop) in East Pakistan.
Farid Ahmad was elected a member of the Pakistan National Assembly in 1965. He was a member of the Pakistan Democratic Movement (PDM) in 1967 and took part in the anti-Ayub mass movement. He attended the Round Table Conference convened by Ayub Khan in February-March 1969 as a representative of Nezam-e-Islam Party. Farid Ahmad had a role in floating the new political party Pakistan Democratic Party (PDP) on 24 June 1969 and was elected as vice president of the party.
Farid Ahmad attended the conference of Inter Parliamentary Union held in London in 1957 as a representative of Pakistan. The same year he represented Pakistan to the convention of International Labour Organisation (ILO) held in New Delhi. He led the Pakistan team to the world Olympic held in Rome in 1960. Farid Ahmad led the delegation of Pakistan to Afro-Asian Peoples Solidarity Conference held in Algeria in 1963 and represented Pakistan to the meeting of the executive committee of the organisation held at Damascus in 1971.
Farid Ahmad wrote a number of books which include the titles Mohammad Ali Clay (1965), Karagare Sataish Din (1966), The Sun Behind The Clouds, Twenty First February. Farid Ahmad was the Managing Editor of the Bangla daily Najat and advisory editor of the Bangla monthly Prithibi.
Farid Ahmad was a supporter of the integrity of united Pakistan. He was a member of the Peace Committee formed in Dhaka on 10 April 1971. Subuquestly he was the president of East Pakistan Peace and Welfare Council. After the liberation of Bangladesh he was killed on 23 December 1971. [Rafiqul Ahsan]