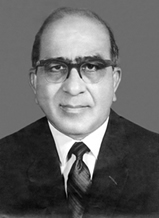 Ahmad, Nafis (1911-1982) educationist and prominent Geographer. Founded the Department of Geography at Dhaka University in 1948. Born in Uttar Pradesh in India, Nafis Ahmad obtained his BA (Honours) and MA degrees from Aligarh Muslim University in India, in 1934 and 1935 respectively. He took his PhD in 1953 from the London School of Economics and Political Science. Nafis Ahmad started his career as a lecturer in Geography at Aligarh Muslim University in 1936 and headed the Geography Department of Islamia College in Calcutta, from 1940 to 1947. He became Reader, Professor and Head of the Geography Department at Dhaka University from its inception in 1948 until his retirement in 1971. Professor Ahmad also served as the Dean of the Faculty of Science, Dhaka University, from 1964 to 1966. After retirement, he served at the universities of Islamabad and Karachi in Pakistan.
Dr Ahmad was the founder-President of the bangladesh geographical society (formerly East Pakistan Geographical Society) established in 1955 and was a Fellow of both the Royal Geographical Society and the American Geographical Society.

Professor Nafis Ahmad wrote a number of books on geography including The Basis of Pakistan (1947), Muslim Contribution to Geography (1947, revised in 1965 and 1972) and Economic Geography of East Pakistan (1958 and revised in 1968). After the independence of Bangladesh, Economic Geography of East Pakistan was extensively revised and published as New Economic Geography of Bangladesh in 1976. He contributed several entries to Encyclopedia Britannica, Collier's Encyclopaedia and American Peoples' Encyclopaedia.
Professor Nafis Ahmad was honoured with a 'Medal of Distinction' by the President of Pakistan in 1961 in recognition of his scholarship and contribution to higher education. He died in Dhaka on 31 May 1982. [Mohammad Abdul Hadi]