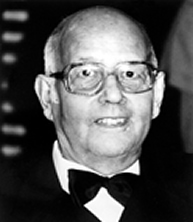 Ahmad, Tassduq (1923-2001) politician, social worker, freedom fighter, was born on 2 April 1923 in a landed family of the Vadeswar village of Golapganj thana, Sylhet. His father Madris Ahmad Chowduhry was a member of the British Indian bureaucracy. Tassduq Ahmad was the eldest among his thirteen sons and daughters.
Tassduq was influenced by revolutionary ideas in his early youth. In his attempt to establish a classless society, he first removed his own feudal title 'Chowdhury' from his name (1943). He earned his living by working as a journalist. He worked as the chief reporter of the Daily Pakistan Observer and the Daily Sangbad. He took an active part in the language movement in 1948 and 1952. The government issued warrant to arrest him for his involvement in the movement. Tassduq left for England in 1954 and achieved a great success in hotels and other enterprises. But soon, he concentrated on social work. He formed an organisation for the welfare of the expatriate Bangalis.
He tried to bring their problems to the notice of the British government and with this objective in view, he published a newspaper titled the Eastern News. Later, he published another newspaper Desher Dak (Call of the Homeland), which was the first newspaper published in Bangla in England.
Tassduq Ahmad played a significant role in the mass upsurge of 1969 and in mobilising international opinion in favour of the war of liberation. Tassduq became an undisputed leader of the expatriate Bangalis in England. Ganges, the restaurant that he owned turned into the centre of political and community activities. During the time of the War of Liberation, the restaurant became a centre of war efforts in Britain. Also he played an active role in the movement against racism. In recognition of his service to the welfare of the expatriate Bangalis in Britain, the British government had awarded him the title of MBE, the Member of British Empire. Tassduq Ahmad died on 8 December 2001. [Md Zahirul Islam Bhuiyan]