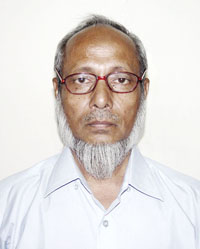 Ahmed, ABM Shamsuddin (1944-2009) educationist. Shamsuddin Ahmed was born on 28 February 1944 in Madaripur. His father was Mollah Bashiruddin Ahmed and mother Shamsunnahar. Shamsuddin Ahmed passed matriculation examination from UIM High School, Madaripur in 1960 and IA from Madaripur College in 1962. He obtained BA (Hons) in History from Dhaka University in 1965 and MA in 1966. He got PhD from Dhaka University in 1988 for his thesis titled Bengal under the Rule of the Early Ilias Shahi Dynasty.
Shamsuddin Ahmed began his career as Professor of History in Jhalakathi College in 1967. Later he joined Government Education Service in 1969 and was posted as Lecturer in History at Sylhet Government College. He was promoted to the post of Assistant Professor in 1980, Associate Professor in 1991, and on promotion as Professor in 1997 he was appointed as Principal of Government Nazimuddin College (Madaripur) which office he held till his retirement in February 2002. Between 1994 and 1997 he served as curriculum specialist in National Curriculum and Textbook Board on deputation.
During his teaching career Shamsuddin Ahmed completed a number of professional training courses. He got short course training on Population Education from NIEAR (1977), short course training on History from NIEAR (1986), and 6-weeks training on Curriculum Renewal and Development in Malayasia (1996). For his excellence in teaching and in educational administration he received the Best Teacher Award at national level in 1988 and Best Principal Award at the district level in 1998. After retirement from service, Shamsuddin Ahmed joined as Deputy Controller of Examinations in the National University in 2002, and served there till 2005.
Alongside his contribution of articles in different magazines and dailies, his publication includes the Bangla titles Itihasa Samparkita Rachanavali: Delhir Sultani Amal (1977), Adhunik Englander Itihasa (1978), Bangladesher Itihasa (2006), and a booklet titled Ikhtiyaruddin Muhammad Bhakhtyar Khalji (2004). He was the Editor of Prachin Bisva O Bangladesher Itihasa, Associate Editor of Itihas Samiti Patrika (1995-97). Shamsuddin Ahmed worked as Assistant Editor of Banglapedia, the national encyclopedia of Bangladesh, and as Research Associate of the Cultural Survey of Bangladesh Project sponsored by Asiatic Society of Bangladesh.
He died in Dhaka on 10 August 2009. [Muazzam Hussain Khan]