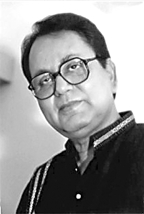 Ahmed, Bulbul (1941-2010) actor. Full name Tabarruk Ahmed Bulbul, popularly known as Bulbul Ahmed. Bulbul Ahmed was born on 4 September 1941 at Agamsi Lane in old Dhaka. His mother's name Mosammat Moslema Begum, his father Mohammad Khalil Ahmed, was a Deputy Secretary of Finance Department of the Government of East Pakistan. M Khalil Ahmed was an amateur actor and Bulbul Ahmed inherited his father's interest in drama.
Bulbul Ahmed passed Matriculation examination in 1957 from Dhaka Collegiate School and Intermediate of Arts in 1959 from Dhaka College. He obtained BA degree from notre dame college in 1961 and MA degree in History from the University of Dhaka in 1963.
In his College life Bulbul involved himself with different areas of cultural activities. While a student of MC College, Sylhet, Bulbul acted in a play titled Chirakoomer Sabha. His performance drew attention of the audience. Ahmed's acting career began with theatre. In 1960 he joined a drama group called 'Drama Circle' and performed in plays such as Oedipus and The Arms and the Man.
Bulbul Ahmed began acting in Television in 1968. At that time as an actor he chose to go by the name Bulbul Ahmed. His big jump to popularity came with the film Ye Korey Biye (1972) directed by Abdullah Usuf Imam. He acted in a minor character and yet viewers identified him as a highly promising actor. In the very following year he got the chance to perform a main role in the film Jibon Niye Jua. In this film he made his position in the electronic media a secure place. With his handsome appearance and talent, Bulbul acted in the lead role in the film based on a Bangla literary classic, Devdas, by Saratchandra Chattopadhyaya. It was directed by Chashi Nazrul Islam. Along with his numerous commitments for acting in various films and on stage, Bulbul Ahmed both directed and performed in two films, Rajlaksmi Shreekanta and Aakorsan. Both proved to be commercially successful ventures. Besides these two movies he directed and acted in few films like Wada, Bhalo Manus, Mohanayak, Garam Hawa, Kato Jey Aapan. A few of the movies Bulbul acted are Shes Uttar, Harano Manik, Sonar Horin, Surjo Konnya, Rupalee Shoikotey, Bodhu Bidaay and more. His notable drama are Shes Bikaler Meye, Baraph Gala Nadi, Arak Falgun, Idiot, Malavcha, Baradidi, Subha and Eisob Dinratri. His performances in these movies made him a household word in Bangladesh and even beyon.
Bulbul Ahmed received four National Film Awards in recognition of his contribution to the film industry. Such as the film Seemana Periye (1977) directed by Alamgir Kabir, Bodhu Bidaay (1978) directed by Kazi Zahir, Shes Uttar (1980) directed by Azizur Rahman Buli and Deepu Number 2 (1996) directed by Morshedul Islam. Bulbul Ahmed's directorial debut Rajlaksmi Shreekanta which released in 1987, won the national award for direction. Besides these, Bulbul was awarded Zahir Raihan Film award (1976), Bangladesh Film Journalistic Soceity award (1980), National BACHSAS (Bangladesh Chalachitra Sangbadik Samity) Film award (1982), Bangladesh Association of Los Angeles award (1991), Tenshinus medal (1992), Bangladesh Film Industry Society award (1996), Fulcoli award (2000), Cultural Reporter's award (2001), Eeshan Cultural Academy award (2002), Television Audience award (2004), Chitralee medal. Alongside his acting career, Bulbul Ahmed also worked in his early life as a banker. He worked with the UBL from 1965 to 1975. He died on 14 July 2010 in Dhaka. [Shamima Akhter]