Ahmed, Fakhruddin 'an economist, civil servant, Chief Adviser of the caretaker government of Bangladesh. Fakhruddin Ahmed was born on 1 May 1940 at village Nagarkandi of Munshiganj district. His father Mohiuddin Ahmed was a physician. Fakhruddin Ahmed passed the Matriculation Examination in 1955 from Mathbaria High School in Pirojpur district, IA examination in 1957, and obtained BA (Hons) in Economics in 1960 and MA degree in 1961 from Dhaka University.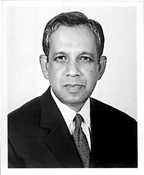 Fakhruddin Ahmed started his career in 1961 as a Lecturer in Economics at the Dhaka University. In 1963, he joined the Civil Service of Pakistan. He left for USA in 1970 for higher studies, and obtained Master's degree in Development Economics from Williams College, Massachusetts (1971). He got his PhD in Economics from the Princeton University in 1975. On his return to the country in 1975 he joined the External Resources Division of the Ministry of Finance as Joint Secretary.
Dr Ahmed joined the World Bank as a Country officer for South Asia in November 1978, and served there for over twenty years in the position of Principal Program Officer, Chief of Agriculture and Rural Development Operations in East Africa, Principal Economist, Operations Adviser, Country Director and Regional Manager. His assignments in the World Bank mainly focused on macroeconomic and development policy issues relevant for the countries of South Asia, East Asia and Africa.
After his retirement from service in the World Bank, Dr Ahmed joined Bangladesh Bank as its Governor in November 2001. He introduced wide-ranging reforms in monetary and exchange rate policies, development of new financial markets and instruments as well as operation of financial institutions. On completion of his tenure as Governor of Bangladesh Bank he joined the Dhaka-based Palli Karma Sahayak Foundation (PKSF) as its Managing Director in June 2005, and continued to serve there till 11 January 2007.
Fakhruddin Ahmed took over charge as Chief Advisor of the Caretaker Government on 12 January 2007. Among the most important achievements of the caretaker government in Bangladesh, headed by him, include separation of the judiciary from the executive, countrywide anti-corruption drive, institutional reforms in the constitutional bodies like the Election Commission, Anti-Corruption Commission and the Public Service Commission, introduction of railway service between Dhaka and Kolkata (2008), electoral reforms, legal and regulatory reforms in various sectors, preparation of a computerised voter list with National ID cards, holding of local level elections in a number of municipalities and city corporations, and the Ninth Parliamentary Election on 29 December 2008. The tenure of the caretaker government headed by Dr Fakhruddin Ahmed ended with the assumption of office by the Awami League Government led by Prime Minister Sheikh Hasina on 6 January 2009.
Dr Ahmed has made substantial contribution as a researcher and a writer. A good number of his research articles have been published in journals and periodicals. [Helal Uddin Ahmed]