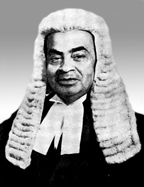 Ahmed, Justice Amin (1899-1991) jurist. Justice Amin Ahmed was born on 1 October 1899 at village Ahmadpur in Sonagazi thana of Feni district. His Father Abdul Aziz was a civil servant. He passed his matriculation examination from Chittagong Municipal High School in 1913. He obtained BA (Hons) in Economics from Presidency College, Calcutta and also MA in Economics. Then he went to England for higher studies and obtained BA (Hons) in Economics and LL.B (Hons) from Cambridge University. Thereafter he joined Grays Inn in London and was called to the Bar as Barrister-at-Law in 1924. After returning to Calcutta he joined the Calcutta High Court bar. In addition to his legal practice he served for sometime as part time Professor of Calcutta University Law College. In 1929 Amin was appointed as a temporary judge of the Presidency Small Causes Court, and joined as permanent judge of that court in or about 1932. In that capacity he also acted as the Chief Rent and Rate Controller of the Premises and Hotels, Calcutta. He was elevated to the post of judge of the Calcutta High Court in 1947. After the partition of India he opted for Pakistan and joined Dhaka High Court as a judge. Amin Ahmed was appointed as Chief Justice in 1954 and retired from service in 1959.
During his legal career in Calcutta he was associated with a member of social organizations. He was the president of Muslim Marriage Registrars' Association, president of Bengal Veternarary College Committee, and member of Juvenile Offenders Reformatory School Committee. He had been the president of Noakhali Muslim Association in Calcutta from 1924 to 1947. He was the president of Dhaka Club for three consecutive years since 1947.
After his retirement as Chief Justice he served for sometime as chairman of Press Court of Honour, Pakistan and also as chairman of Pakistan Shipping Corporation.
He delivered Kamini Kumar Memorial Law Lecture in the Dhaka University, which was published in the form of a book titled Judicial Review of Administrative Action in Pakistan. He wrote his autobiographical sketches under the title A Peep into the Past. He created a trust in 1981 of all his properties for advancement of education and public charity with himself as its managing trustee. The trust is also running Justice Amin Ahmed Charity Clinic in his Dhanmandi house for the benefit of poor patients.
Justice Amin Ahmed was awarded the title of Member of the British Empire (MBE) by the British Government of India, and Helal-e-Pakistan by the Pakistan Govrnment for his meritorious services. He died in Dhaka on 5 December 1991. [Kazi Ebadul Hoque]