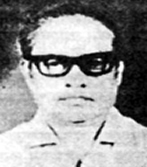 Ahmed, Kamruddin (1912-1982) lawyer, politician, diplomat. Kamruddin Ahmed was born on 8 September 1912 at village Sholaghar in Sreenagar upazila of Munshiganj district. Although he pursued a career in politics and diplomacy, he also achieved considerable fame as a writer. He matriculated from Barisal Zila School in 1929 and passed Intermediate examination from Barisal B M College in 1931. He obtained his BA (Hons) and MA in English from Dhaka University in 1934 and 1935 respectively. In 1944 he got the BL degree from the same university. Kamruddin Ahmed started his career as a teacher at Armanitola School in Dhaka, but later on took part in active politics and also assumed diplomatic responsibilities. Finally he engaged himself in legal practice.
Kamruddin Ahmed was a supporter of the muslim league in the initial stage of his political career. But soon after the emergence of Pakistan (1947) he left the Muslim League because of its reactionary activities. He was a member of the Sarba-daliya Rashtra-bhasa Sangram Parishad (All Party State Language Movement) formed in 1948. He joined the Awami Muslim League in 1954 and was elected a member of the central committee of the party the following year. At one stage he withdrew himself from active politics and joined the diplomatic service.   
He was the Deputy High Commissioner of Pakistan in Calcutta (1957-1958), and Ambassador in Burma (1958-1961). He entered the legal profession in 1962. During the war of liberation in 1971 he was arrested by the Pakistan army in October, and was kept confined till the liberation of the country. He was the general secretary of Trade Union Federation, and president of the Asiatic Society of Bangladesh (1976-1978).
Kamruddin Ahmed is the author of a number of books. These include A Social History of Bengal (1957), A Socio-Political History of Bengal, The Birth of Bangladesh, Purba Bamglar Samaj O Rajneeti (1976), Bamglar Madhyabitter Atmabikax (two vols), Swadhin Bamglar Abhyuday Ebong Atapar (1982), Bamglar Ek Madhyabitter Atmakahini. He died in Dhaka on 6 February 1982. [Md Selim]