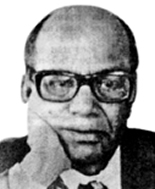 Ali, M Akbar (1911-2001) educationist, researcher and writer. Akbar Ali was born on 1 March 1911, in the Gopalpur village of sujanagar upazila, pabna. He passed the ISc examination from the Pabna Edward College, BSc examination in Chemistry from the Presidency College and obtained the MSc degree in 1933 from the University of Calcutta securing first class first position.
M Akbar Ali joined the government service as an auditor of the Income Tax Department after working for a brief period as a research fellow at University of Calcutta. As an auditor he served in Khulna and Chittagong for some years, then was transferred to Calcutta office in 1942. He returned to Dhaka in 1947. In 1954, Akbar Ali was appointed as a Joint Commissioner of the Income Tax Department in Karachi and later promoted to the post of Under Secretary of the Ministry of Finance. He retired as a Deputy Secretary.    
From student life, Akbar Ali used to write in various newspapers and magazines including prabasi, mohammadi, saogat and Azad. His first book Chad Mamar Desh was published in 1936. His notable publication is a 12-volume book series in Bangla Vijnane Musalmander Abadan (Muslim contributions to sciences). Three volumes of this series include discussions on mathematics, two volumes on chemistry, four volumes on medical sciences and three volumes on geography.
His other important books are Science in the Quran (3 volumes), Aspects of Science in Religions: A Comparative Study (3 volumes), Jabir Ibn Haiyan, Al Biruni, Ibn Sina, etc. Jointly with some eminent scientists and scholars of the country, M Akbar Ali completed another two notable publications- Scientific Indication in the Holy Quran and Muslim Contribution to Sciences.
M Akbar Ali was involved in many social activities. He was also one of the founder of the Satbaria Girls School and College. He died on 18 January 2001 in Dhaka. [Ali Nawaz]