Ali, M Hossain (1923-1981) 'diplomat. M Hossain Ali was born on 1 February 1923 at village Patharghata in Bhangura thana of Pabna district. Hossain Ali obtained MSc in Chemistry from Dhaka University in 1945. He obtained LL.B degree from Karachi University in 1948.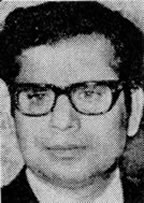 Hossain Ali competed in Civil Service examination in 1949 and joined Pakistan Foreign Service. Initially, he studied on international law and diplomacy in Foreign Service Institute in Washington D.C in the United States of America. He also completed a course on diplomacy in the British foreign office. Besides, he obtained diploma on diplomacy from the Institute of International Relations in Paris. He worked in different capacities in the Pakistan Embassies and High Commissions in India, Turkey, Belgium, Saudi Arabia, United Kingdom, Netherlands, Burma and Australia.    
In 1970, Hossain Ali was appointed as the Deputy High Commissioner in Pakistan High Commission in Kolkata. With the beginning of the War of Liberation, Pakistan Government transferred him to West Pakistan. But Hossain Ali instead of complying with the transfer order declared his allegiance to the Government of Bangladesh on 18 April 1971 along with sixty five of his colleagues. High Commission office of Kolkata was named as People's Republic of Bangladesh Mission, and it turned to have been the centre for international relations during the War of Liberation.
After liberation, Hossain Ali was appointed as the secretary of the Ministry of Information and Radio in 1972. He was appointed as High commissioner of Bangladesh to Australia in March 1972. Besides, he performed additional responsibilities of the Missions of Fizi and New Zealand. In January 1973 Hossain Ali was appointed as the Bangladesh Ambassador to the United States of America. Between 1976 and 1979 he was the Ambassador of Bangladesh to West Germany. Later he was appointed as the Ambassador of Bangladesh to Canada. Hossain Ali died in Canada on 2 January 1981. [Abu Md. Delwar Hossain]