Ali, Mohammad Shamshad (1934-1971) physician, martyr intellectual. Shamshad Ali was born on 9 March 1934 at his maternal grandfather's house at Alahabad in Bihar. His paternal home was at Sonatala in Bogra district. His father Abul Hossain was a physician and an officer (Captain) in the British army who after his retirement settled at Muzaffarnagar in Parbatipur thana of Dinajpur district. His mother Anwari Begum claims to be a descendant of Nawab Murshid Quli Khan.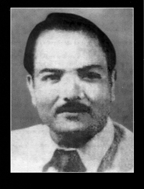 On completion of his early education at Parbatipur, Shamshad Ali got medical education first at Rajshahi Medical College and then at Sir Salimullah Medical College of Dhaka. He got MBBS degree in 1963.
Shamshad Ali joined Government Medical Service in 1963 and was posted in Comilla Thana Health Complex. After two years of service there, Shamshad Ali resigned from government service and started private practice at Parbatipur. He had his own pharmacy and chamber at Natun Bazar in Parbatipur. The Parbatipur town was then a non-Bangali dominated area. The conflict between the Bangalis and the non-Bangalis (Biharis) was there a common phenomenon since 1947.    
The conflict became acute during the anti-Ayub Movement especially during the mass upsurge in 1969. Shamshad Ali played a vital role in the movement, and thus became a target of the non-Bangalis of the area. With the army crack down on the night of 25 March 1971, Shamshad Ali with his family members was virtually in a state of siege in their house surrounded by the residences of the non-Bangalis.
On the night of 8 April 1971 at 11 pm, a group of Pakistani soldiers accompanied by some non-Bangali collaborators knocked at the door of the residence of Shamshad Ali. The door being opened by a brother of Shamshad Ali, the soldiers pushed inside on the plea of searching the house. The family members of Shamshad Ali including his parents and brothers were put in a file on gun point. Shamshad Ali who was then on the first floor took shelter behind the cornish on the roof. He was however traced, dragged down stairs, and was the lone target to be carried to the suberb of the town. He was shot dead on the spot. His dead body was cut into pieces to be burnt inside the boiler of a rail engine on the northern end of the railway station.
Shamshad Ali, a man of progressive ideas, had a cultural bent of mind. Himself a sportsman and singer, he was devoted to the promotion of cultural activities. He had pioneering role in floating a cultural and sports association named 'Pragati Sangha' at Parbatipur.
In his honour, a road at Natun Bazar in Parbatipur has been renamed as Shaheed Dr Shamshad Ali Road. The Postal Department of the Government of Bangaldesh issued commemorative postal stamp in the name of Shamshad Ali on the Martyred Intellectual Day on 14 December 2000 in recognition of his sacrifice for the cause of the nation. [Muazzam Hussain Khan]