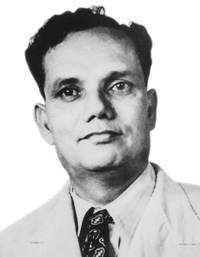 Ali, Syed Murtaza (1902-1981) civil servant, writer. Syed Muraza Ali was born on 1 July 1902 in Karimganj, assam, his father's workplace. His ancestral residence was at Uttarsur, habiganj. His father, Khan Bahadur Sikandar Ali, was a Sub-Registrar, and his younger brother, syed muztaba ali, was a linguist and writer.
Murtaza Ali, who had a bright academic career, matriculated from Sylhet Government School in 1921 and completed his ISc from Murari Chand College in 1923, obtaining first division in both examinations. In 1925 he passed BSc (Hons) in Physics from presidency college, Calcutta. He qualified in the ICS Examination, standing first among Bengali Muslims, but was not given any posting. However, he later qualified in the Assam Provincial Civil Service Examination in 1926 and was appointed Magistrate of Maulvi Bazar subdivision.    
Murtaza Ali became Sub-divisional Officer in 1940 and, in 1944, Under Secretary in the Education Department. After partition he joined the East Pakistan Civil Service and served as District Magistrate, Deputy Secretary, and Divisional Commissioner at different times and retired in 1959. He was President of the bangla academy (1969-71, 1975-77), asiatic society of bangladesh, 1974 and Chairman of the press institute of bangladesh.
His writings include Pashchim Pakistan (1952), The History of Jaintia (1954), History of Chittagong (1964), and Hazrat Shah Jalal O Sylheter Itihas (1965). He also wrote an account of famous people in Personality Profiles (1964). His other writings include his memoirs, Amader Kaler Katha (1968), and essays collected in Muztaba-Katha O Anyanya Prasanga (1976) and Prabandha Bichitra (1967). Muztaba-Katha O Anyanya Prasanga includes essays on his brother Syed Muztaba Ali. He was awarded the Bangla Academy Literary Prize in 1973 for his research. He passed away on 9 August 1981 in Dhaka. [Md. Harun-or-Rashid]