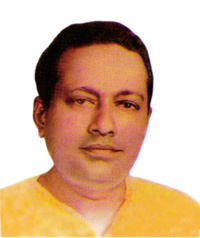 Alim, Abdul (1931-1974) the renowned folk singer was born on 27 July 1931 in the village of Talibpur in Murshidabad district. His father was Mohammad Yusuf Ali. He did not have much formal education. While at elementary school he heard a gramophone record and became attracted to music. He took music lessons from a local instructor, Syed Golam Ali, and earned a reputation as a singer while quite young. Later he went to Kolkata and became acquainted with abbasuddin ahmed and kazi nazrul islam.
He took lessons in folk music as well as classical music from bedaruddin ahmad, Ustad mohammad hossain khasru, Momtaz Ali Khan, Abdul Latif, kanailal shil, Abdul Halim Chowdhury, etc. His first two recorded songs are 'Tor Mostafake De Na Mago' and 'Aftab Ai Baslo Pate';, which were bought by a gramophone company in 1943. After partition Abdul Alim settled in Dhaka.
Abdul Alim also sang on television and for films and recorded about five hundred songs. He was highly regarded for his mystic murshidi songs. He received a number of national awards, such as the Ekushey Padak, Purbani Chalachchitra Puraskar, and Bangladesh Chalachchitra Sangbadik Samiti Puraskar.
He died on 5 September 1974 in Dhaka. [Wakil Ahmed]