Alim, Qazi Abdul (1933-2007) an outstanding athlete and leading sports orgaiser of Bangladesh was born in Dhaka on 31 December 1933. Son of Qazi Abdul Matin of Qazibari, Rokonpur in the old part of the Capital, he emerged as the most successful and qualified sportsman of his time. He won Provincial Athletics Championship for nine consecutive years from 1948 to 1956 and athletics meet of Salimullah Muslim Hall, dhaka university for seven consecutive years, from 1950 to 1956.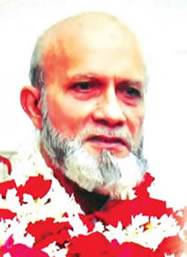 College athletic from 1948 to 1956 Alim was the highest scorer although. Besides he became runners up in inter college gymnastics meet held in 1955. In the pole vault event in 1951 he set a new record of Pakistan. He was the captain of Dhaka University Athletic team participated in the provincial meet from 1950 to 1956. He was also the captain of East Pakistan contingent in the national games held in 1955 and 1956. He was manager and coach of athletics of former East Pakistan contingent for six consecutive years from 1962 to 1967. 
He organised the provincial games in 1970 and represented the erstwhile East Pakistan Team as its manager in National Games held in Karachi in the some year. He also represented former Pakistan athletics team to the 9th Commonwealth Games held in Edinburgh as its Associate Manager.
Alim did his masters in general History and International Relations from the university of dhaka in 1956 and 1954 respectively. Later he went to the United States and earned bachelor degree in Physical Education, Health Education and Recreation from the University of Oregon in 1958.'
Qazi Alim started his career as a professional athletics coach. Pakistan Olympic Association employed him as a national coach from 1958 to 1962. Then he worked as the Director of Physical Education in the Mymensingh Agricultural University from 1962 to 1965. The University became champion in the inter university meet of 1965. He joined the National Sports Training and Coaching centre, Dhaka as its Director in March 1965 and worked there till February 1974. He served as Principal, College of Physical Education, Dhaka and Rajshahi from 1974 to 1989. After retirement from government service, he intensified his efforts for the development of sports and games in the country. In 1994, he represented Bangladesh as Deputy Chief-de-Mission in the Hiroshima Asian Games and the Dhaka SAAF Games.
Qazi Alim wrote 18 books on sports and games and 16 books on various other topics including folk tales, riddles, jocks and literature. He received many awards during his lifetime. The most prestigious Independence Award was given to him in 1994. He was also honored with National Sports Award and some other local and foregoing awards for his disguised services to Physical education and sports.
One of his major achievement was he brought his own sisters to the athlete track, which inspired girls to participate in sports later as his sisters won gold medal for many years from 1953. He compiled a book titled Kheladular Ain Kanun in 1965.
Qazi Abdul Alim died in 2007. [Mahabubul Alam]