Amin, Nurul (1893-1974) lawyer, politician. Nurul Amin was born at village Shahbazpur in Brahmanbaria district in 1893. His paternal home was at Bahadurpur in Mymensingh district. He had his early education at Bahadurpur ME School and passed entrance examination in 1915 from Mymensingh Zila School. Nurul Amin passed his IA and BA examinations from Mymensingh Ananda Mohan College in 1917 and 1919 respectively. Having obtained his BL degree from Calcutta University he joined the Mymensingh Judge Court Bar in 1924.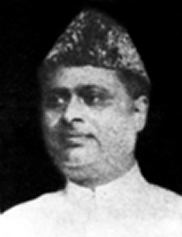 Nurul Amin started his public career as a member of Mymensingh Local Board (1929). He became a member of Mymensingh District Board (1930), commissioner of Mymensingh Municipality (1932), and had been the chairman of Mymensingh District Board from 1937 to 1945. For a long time, Nurul Amin was the president of Mymensingh district unit of Muslim League, and was elected the vice president of Bengal Provincial Muslim League in 1944. Nurul Amin was elected a member of the Bengal Legislative Assembly in 1946, and was elected its Speaker.  
Nurul Amin took active part in Pakistan Movement. He was the Minister of Civil Supply in the provincial cabinet headed by Khwaja Nazimuddin. He was also a member of the Pakistan National Assembly (1947-1954). Nurul Amin was elected the chief minister of East Bengal in 1948 and continued in the position for five years. He opposed the language movement, and was allegedly instrumental to the killing of language activists by police firing in Dhaka on 21 February 1952. He was defeated by the United Front candidate in the Provincial Assembly elections in 1954.
Nurul Amin joined the National Democratic Front (NDF) headed by Huseyn Shaheed Suhrawardy in 1962, and was thus associated with the movement against autocratic rule of Ayub Khan. After the death of Huseyn Shaheed Suhrawardy he was elected president of NDF in 1964. He was elected member of the National Assembly in 1965, and was the leader of the combined opposition Parliamentary Party (1965-1969). Nurul Amin was made the chairman of Pakistan Democratic Movement (PDM) formed in 1967 as a united platform of National Democratic Front, Jamaat-e-Islami, Nezam-e-Islam, Council Muslim League, and Awami League (pro 8-point). He played an important role in floating the Democratic Action Committee (DAC) in 1969, and as one of the top leaders of the forum participated in anti-Ayub movement. As a representative of NDF, Nurul Amin attended Round Table Conference at Rawalpindi (1969) convened by President Ayub Khan with a view to mitigate the political crisis between the government and the opposition parties. A new political party was floated by him as Pakistan Democratic Party (PDP) in 1969, and he was made its president. Nurul Amin was elected a member of the National Assembly in 1970.
Nurul Amin was an antagonist to Bangali nationalist movement based on Six-point Programme of Bangabandhu Sheikh Mujibur Rahman. He opposed the War of Liberation, and collaborated with the Pakistan occupation army. On the eve of liberation of Bangladesh he was staying in West Pakistan, and deliberately accepted citizenship of Pakistan. He was made the Vice President of Pakistan in December 1972 which office he held till August 1973. He died in Rawalpindi on 2 October 1974. [Muazzam Hussain Khan]