Ampthill, Lord Arthur Oliver Villiers Russell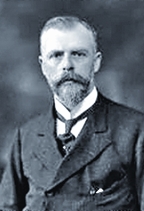 Ampthill, Lord Arthur Oliver Villiers Russell (1869-1935) 2nd Baron, was a British peer and administrator who served as the Governor of Madras from October 1900 to February 1906 and acted as the Viceroy of India from April to December 1904, when lordcurzon was re-elected for a second term.
Oliver Russell was born on February 19, 1869 in Rome, to Odo Russell, 1st Baron Ampthill and Lady Emily Russell in Rome and was educated at Chignell's and Eton and graduated from New College, Oxford in 1898 with honors' in modern history.
Amphill succeeded to the barony of Ampthill at the age of 15 on the death of his father. At the age of 31, Russell became the youngest-ever to be appointed Governor of Madras and served from 1900 to 1906.
During Ampthill tenure, the Oriya Movement for the creation of a separate province of Orissa gathered momentum. He was strongly opposed to the demands for separation of the Oriya-speaking tracts of Vizagapatam and Ganjam districts from Madras.
When Lord Curzon's tenure came to an end in 1904, Lord Ampthill was chosen to act as the Viceroy of India until the appointment of a new Viceroy.'
On returning to England in 1906, Russell took up the cause of Indians in South Africa. He chaired an advisory committee on Indian students in the United Kingdom but disagreed with the Secretary of State for India John Morley on the issue of constitutional reforms. In 1909, Ampthill wrote an introduction to Joseph Doke's book 'MK Gandhi: an Indian Patriot in South Africa'.
Ampthill was made a GCIE (Knight Grand Commander of the Order of the Indian Empire) on 28 December 1900, shortly before his departure for India and a GCSI (Knight Grand Commander of the order of the star of india) on 2 September 1904.
Lord Ampthill died of pneumonia on July 7, 1935. [Nasrin Akhter]