Atrai Upazila (naogaon district) area 284.81 sq km, located in between 24°32' and 24°42' north latitudes and in between 88°49' and 89°06' east longitudes. It is bounded by raninagar and manda upazilas on the north, natore sadar upazila on the south, SINGRA upazila on the east, baghmara upazila on the west.
Population Total 179799; male 91637, female 88162; Muslim 161893, Hindu 17515, Buddhist 16 and others 375.
Water bodies Main rivers: atrai and Nagor; Pakar beel, Chander beel and Kaklaban beel are notable.
Administration Atrai Thana was formed in 1916 and it was turned into an upazila on 1 August1983.
Upazila
Municipality
Union
Mouza
Village
Population
Density (per sq km)
Literacy rate (%)
Urban
Rural
Urban
Rural

-

8

155

201

11702

168098

632

51.5

41.1
Upazila Town

Area (sq km)

Mouza

Population

Density
(per sq km)

Literacy rate (%)

6.55

6

11702

1787

51.54
Union
Name of union and GO code
Area (acre)
Population
Literacy rate (%)
Male
Female

Ahsanganj 10

12224

11492

11006

38.00

Kalikapur 52

6989

10077

9745

36.25

Panchupur 73

7017

13908

13467

43.55

Bisha 31

10470

12610

12167

47.22

Bhopara 21

8742

11716

10955

39.29

Maniari 63

12119

11703

10871

43.87

Sahagola 84

5920

10069

9990

35.53

Hatkalu Para 42

6441

10062

9961

49.34
Source Bangladesh Population Census 2001, Bangladesh Bureau of Statistics.
Archaeological heritage and relics Mahadighi Mosque, Kazipara Mosque, Rabindranath's Kuthibari at Patisar, Tazia at Bankagram, Mirpur Mosque.
History of the War of Liberation A battle between freedom fighters and the Pakistan army was fought atvillage Bandaikhara on 19 September 1971. The Pak army plundered and set many houses on fire of the village and indiscriminately killed many villagers. The Pak army was challenged by the Muktibahini at a point close to Taranagar and Gaoillah villages. Nine boats carrying Pak troops were sunk by a surprise attack. During the War of Liberation the Pak army along with their collaborators killed many freedom fighters of the upazila.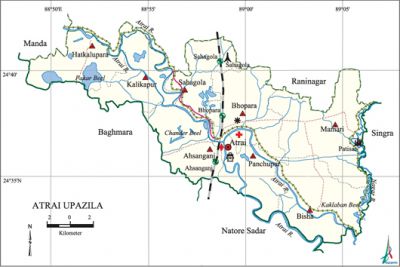 Marks of War of Liberation Mass grave 2 (adjacent to Sahagola Railway Station and river side of Bandaikhara).
Literacy rate and educational institutions Average literacy 41.8%; male 48.7%, female 34.8%. Noted educational institutions: Mollah Azad Memorial College (1968), Bhabanipur High School (1910), Kaligram Rabindranath Institute (1937), Ahsanullah Memorial High School (1941), Bandaikhara School (1874).
Newspapers and Periodicals Ahatasur and Atrai.
Cultural organizations Library 1, club 106, cinema hall 2, theatre group 3, playground 63, jatra dal 2.
Tourist spots Rabindranath's Kuthibari at Patisar.
Main sources of income Agriculture 73.20%, non-agircultural labourer 2.33%, commerce 11.13%, transport and communication 1.96%, service 3.42%, construction 0.79%, religious service 0.15%, rent and remittance 0.49% and others 6.53%.
Main crops Paddy, wheat, mustard.
Extinct or nearly extinct crops Linseed, sesame, aush paddy, indigo.
Main fruits Palm, jack-fruit, litchi, banana and papaya.
Fisheries, dairies and poultries This Upazila has a number of fisheries, dairies and poultries.
Extinct or nearly extinct traditional transport palanquin, horse carriage and bullock cart.
Manufactories Flour mill, ice cream factory.
Cottage industries Goldsmith, blacksmith, weaving, potteries, bamboo works, woodworks, nakshi kantha.
Hats, bazars and fairs Hats and bazars are 12, fair 1 of which Ahsanganj hat and Shahebganj bazar are notable.
''Main exports Paddy, wheat, mustard, mat.
Access to electricity All the unions of this Upazila are under rural electrification net-work; however, 16.48% of the dwelling households have access to electricity.
Sources of drinking water Tube-well 95.16%, pond 0.48%, tap 0.13% and others 4.23%.
Sanitation 23.83% (urban 22.06% and rural 50.24%) of dwelling households of the upazila use sanitary latrines and 48.81% (urban 50.09% and rural 29.62%) of dwelling households use non-sanitary latrines; 27.36% of households do not have latrine facilities.
Health centres Upazila health complex 1, clinic 2, community clinic 10.
Natuural disaster The follod of 1998 dismantled the dam of the area causing serious damage to crops and settlements.Serious damage to properties were held as a result of dismandle of the dam.
NGO activities asa, brac, proshika, caritas, Ujjiban. [Md. Muklesur Rahman]
References Bangladesh Population Census 2001, Bangladesh Bureau of Statistics; Cultural survey report of Atrai Upazila 2007.