Azad, Humayun (1947-2004) Poet, novelist, story-teller, researcher, linguist. He was born in Rarhikhal of Bikrampur on 28 April 1947. His father Abdur Rashid was a school-teacher, mother Jobeda Khatun was a housewife. His original name was Humayun Kabir. He accepted the name Humayun Azad on 28 September in 1988 by the magistrate of Narayanganj district.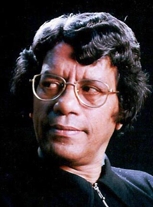 Humayun Azad passed the secondary examination from Sir Jagadishchandra Basu Institute in 1962, higher secondary examination from Dhaka College in 1964, BSc Honours and MA in Bangla literature from Dhaka University in 1967 and 1968 respectively and PhD in linguistics from Edinburgh University in 1976. Humayun Azad started his professional career in 1969 by joining the Chittagong College. Later, he joined Chittagong University as a Lecturer on 11 February 1970 and as Lecturer of Jahangirnagar University in 1972. He was appointed as Associate Professor of Bangla department under Dhaka University on 1 November 1978 and was promoted to the rank of professor in 1986.  
His first book of poetry titled Aloukik Istimar and the book of essays Rabindra Probandha: Rashtra O Samajchinta were published in 1973. At that time, he concentrated on writing poetry alongside linguistic research. His second book of poetry Jvalo Chitabagh was published in 1983. His three books on linguistics were Bangla Bhashar Shatru-mitra (1983), Pro-nominalisation in Bengali (1983), Bakyatatva (1984). His edited books: Bangla Bhasha (2 volumes, 1984, 1985), Adhunik Bangla Kavita (1994), Muhammad Abdul Hye Rachanabali (3 volumes, 1994), Rabindranath Thakurer Prodhan Kavita (1997). His two books on linguistic science: Tulonamulak O Autihasik Bhashabijnan (1988) and Arthabijnan (1999).
Humayun Azad's command over literary criticism and his intellectual depth can be observed in the books: Shamsur Rahman/Nihshanga Sherpa (1983), Bimanobikikaran O Onyanya Probandha (1988), Bhasha Andolan: Sahityik Patabhumi (1990), Naree (1992), Narakey Ananta Ritu (1992), Probachan Guchchha (1992), Shimabaddhatar Sutra (1993), Adhar O Adheya (1993), Amar Abishvas (1997), Nirbachita Probandha (1999), Amra Ki Ei Bangladesh Cheyechhilam (2003), etc.
Although he was influenced by Buddhadeb Bhattacharya in language and style, his originality was undeniable. Side by side with expressing his own views, his novels described different frictions present in the society and culture of this region. They include: Chhappanna Hajar Bargamile (1994), Sab Kichhu Bhenge Pare (1995), Manush Hishebe Amar Aparadhsamuha (1996), Jadukarer Mrityu (1996), xhubhabrata, Tar Samparkita Susamachar, Rajneetibidgan (1998), Kavi Athaba Dandita Apurush (1999), Nijer Sange Nijer Jibaner Madhu (2000), Fali Fali Kare Kata Chand (2001), Srabaner Brishtite Raktajaba (2002).
By writing some books on juvenile literature, he has demonstrated his extraordinary talent and intellect as a literary creator. These are characterised by inspirational language and include: Lal-Nil Dwipabali (1976), Phuler Gandhey Ghum Ashey Na (1985), Kato Nadi Sarobar (1987), Abbuke Mone Pare (1989), Bukpockete Jonakipoka (1993), Amader Shahare Ekdal Deb-doot (1996), Andhakare Gandharaj (2003), etc. His poetic temperament was exposed in the following works of poetry: Jatoi Gobhire Jai Modhu Jatoi Upare Jai Neel (1987), Ami Beche Chhilam Onyader Samoye (1990), Kavya Sangraha (1998), Kafoney Mora Ashrubindu (1998). He was awarded the Bangla Academy prize for his contributions to literature.
Humayun Azad can be considered as the country's outstanding non-traditional and multidimensional writer. He used to avoid stereotype thinking quite consciously. He was a very popular but controversial writer. He wrote whatever he conceived with courage and as a result he attracted the wrath of many. At one stage, he was assaulted by some fundamentalists and became crippled in the process. His three books Naree (1992), Dwitiya Linga (2001), Pak Sar Zamin Sadbad (2003) created storms of controversy and at one stage the government banned these books. Azad enjoyed enormous popularity among the younger generation. He went to Germany when the German PEN authority granted him a research fellowship for one year (1 August 2004-31 July 2005) on the 'Life of Poet Heinrich Heine and Bangla Translation of His Poems'. He died in the city of Munich there on 12 August 2004. [Muhammad Saiful Islam]