Bajra Shahi Mosque is located on the northern bank of a large pond containing a masonry ghat in the village of Bajra under Begumganj thana of Noakhali district. The mosque, according to an inscription fixed over the central doorway, was erected by one Aman Allah in 1741-42 AD during the reign of the Mughal emperor Muhammad Shah.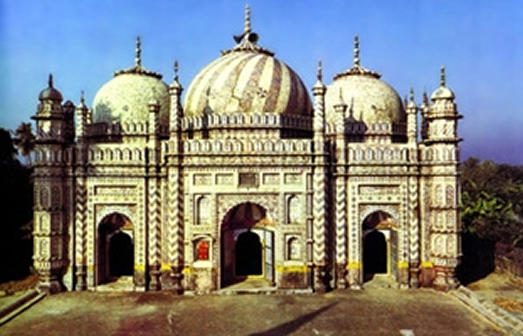 The Bengali and Persian inscriptions fixed over the gateway of the outer wall and on the inside wall of the mosque record that it was thoroughly repaired in the years between 1318 to 1335 BS by the Bajra Zamindars Khan Bahadur Ali Ahmad and Khan Bahadur Mujir Uddin Ahmad.
A Bengali inscription on the south wall of the mosque records that Benazir Ustagar of Dhaka executed the repair works. The present ornamentation of the mosque with a mosaic of shards of China was also done at that time. The mosque is now in a fairly good state of preservation.
The mosque has been built on the western half of a raised platform, which is enclosed by an outer wall with an impressive gateway in the middle of the eastern side. Built of brick, the mosque is rectangular (16m by 7.32m) in plan, with the usual octagonal towers in the four exterior angles, while the thickness of its walls is 1.22m. The building has three arched doorways in the east and only one each on the north and south sides, all projected outside, with slender flanking minarets, but the projection and size of the central doorway in the east is larger and more prominent. The three eastern archways, each opening under a half-domed vault, have multi-cuspings on the outer faces. In the axis of these eastern doorways there are three semi-octagonal mihrabs inside the qibla wall, of which the central one is bigger.
All these mihrabs are indicated on the back of the wall by rectangular projections having bordering turrets. These bordering turrets of the doorway and mihrab projections together with the four octagonal corner towers rise beyond the horizontal parapets and terminate in solid kiosks and cupolas having kalasa finials.
The interior hall of the mosque is divided into three bays by two beautiful multi-cusped transverse arches. The central bay is square, while the side bays are rectangular. Above the roof are three bulbous domes on octagonal drums; all crowned with lotus and kalasa finials. The central dome, which is the largest, is carried on small half-dome squinches on the upper corners. Half-domed vaults on the east and wall and the triangular pendentives on the upper angles support the smaller side domes.
The outer face of the horizontal parapets and the octagonal drums show rows of blind merlons. Wide varieties of sunken arched panels profusely embellish both the internal and external surface of the walls. The central mihrab has elaborate stucco ornamentation. Originally the building was covered with plaster, but at present every part of it is minutely decorated mosaics of varicoloured shards of China. [MA Bari]